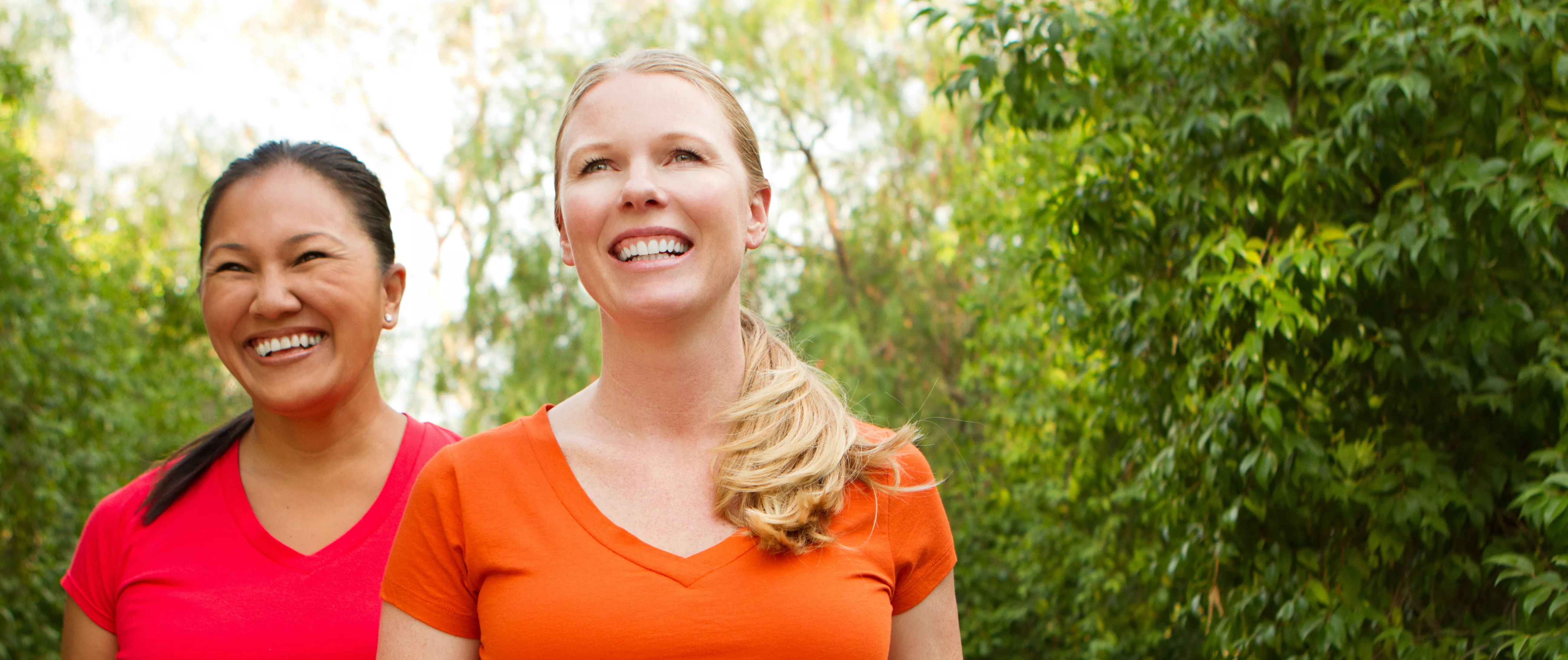 As a woman, you juggle many demands on your time. You take care of everyone else – let us take care of you. We understand the complexities of your health concerns, whether you're having a baby, needing a mammogram, dealing with breast cancer, facing the change of life or coping with bladder issues. Our specialty caregivers provide personalized care, paying special attention to your needs, comfort and privacy.
Women's Health Services
Helping you Find Answers Quickly
Whether you found a lump as result of breast self-exam, mammogram or physician's clinical exam, the sense of urgency remains the same. You want answers and test results quickly with few delays. That's why we developed Breast Lifecare. Our radiologists and surgeons work as a team to provide as much information as possible in as few visits as possible to minimize the stress caused by multiple appointments and waiting.
During a Breast Lifecare visit, you will have a consult with a breast surgeon. The breast surgeon will review your imaging with the breast radiologist. He will then discuss your plan of care with you. If a breast biopsy is recommended, it can be done the same day under most circumstances.
Your doctor may refer you to Breast Lifecare as result of any of the following:
Breast lumps
Nipple discharge
Inverted nipple
Skin changes such as rash, dimpling, or redness
Positive finding on mammography, ultrasound, and/or MRI
Follow-up to a positive finding
Previous breast cancer surgery
You may need additional tests, which could include digital mammography, ultrasound or minimally-invasive biopsy. Most often, we can conduct these tests during your first appointment, eliminating the need for additional appointments.
Our team focuses on ensuring your comfort while delivering care in a compassionate, soothing, respectful atmosphere. With a state-of-the-art facility that features the latest technology, we take pride in providing you the best care, advice and treatment.
Early detection is the best cure we have for breast cancer. When a cancer is found early, it is more treatable and care is less costly. Even so, about 50% of women do not participate in annual mammograms, largely due to fear and discomfort of mammograms.
Early detection begins with annual breast screening starting at 40 and supplemental care as determined by personalized risk factors. Mammography can detect tumors before they can be felt, so it's important to get a mammogram in addition to breast self-exams and clinical breast exams.
Freeman is committed to empowering clinicians to detect breast cancer at its earliest stage, reduce fear and discomfort, while customizing care based on each patient's individual risk factors. We provide support across the breast care pathway, including screening, diagnosis, intervention and monitoring. Freeman is also the first and only in region to invest GE Healthcare's Senographe Pristina™ Dueta, a 3D mammography system that enables women to determine the pressure applied for compression, improves women's experience and delivers better images.
As one of the busiest maternity centers in Missouri, we've earned the trust of moms-to-be because we provide family-centered care and individual attention in a warm, caring environment. Our highly-trained, expert team includes board-certified obstetricians, available 24 hours a day, to care for all patients, including those with high-risk pregnancies.
Anthem Blue Cross and Blue Shield in Missouri has designated Freeman Maternity Center as a Blue Distinction Center, recognizing its expertise in delivering quality specialty care, safely and effectively. Freeman Maternity Center was recognized by Newsweek Magazine, in partnership with the Leapfrog Group as a Best Maternity Hospital in 2021. Freeman was one of three hospitals in the State of Missouri to receive this recognition, and the only one in Joplin!
Designed with privacy and comfort in mind, Freeman Maternity Center features home-like birthing suites and private postpartum rooms. Our spacious mom and baby rooms permit mothers and babies to room-in together for an enhanced bonding experience. Additionally, a state-of-the-art infant security system for the protection of our youngest patients.

Our spacious mom and baby rooms permit mothers and babies to room‐in together for an enhanced bonding experience. Additionally, a state‐of‐the-art infant security system for the protection of our youngest patients.
We deliver more than 1,700 babies every year – that's one baby every five hours! We are proud to introduce you to some of Freeman's newest arrivals. We offer you the opportunity to post your baby's photos online, on a well-traveled billboard in Joplin now on KSN/KODE TV!
We're almost as excited as you about the coming birth of your baby! Let Freeman Maternity Center help you prepare for this exciting event. 
Prenatal Classes
Each month, Freeman offers free prenatal education classes to Freeman patients to help expectant mothers and families prepare for the arrival of a new baby. These classes can ease the tension and fear surrounding labor and delivery, as well as aid in your overall comfort when the time comes. You will learn rhythmic breathing techniques; tour the birthing, nursery and obstetrics areas; and learn about the choices available to you.
Breastfeeding Classes
Each month, Freeman offers free breastfeeding classes to Freeman patients. Taught by a certified lactation consultant, Freeman's breastfeeding class provides information on how to establish your milk supply, how to help a baby latch and how to establish pumping. The class also teaches signs of adequate milk intake, as well as prevention and treatment suggestions for common breastfeeding problems, such as engorgement, sore nipples and clogged ducts.
Freeman Maternity Center
1102 W. 32nd St.
Joplin, MO
417.347.6667
8:00 am – 4:30 pm Monday – Friday
Urinary incontinence, or inability to control the bladder, is a common problem among women. Often experienced during their childbearing years, through menopause and after menopause, incontinence can cause its sufferers to feel self-conscious and avoid certain activities. Individuals with severe cases can even become reclusive.
However, there's no need to suffer in silence. Freeman offers safe, innovative solutions for a leaky bladder. The first step is getting an evaluation to determine the cause of the leakage. New medications for certain types of incontinence have demonstrated great success.
Patients may also find relief from contemporary surgical and nonsurgical solutions, including minimally invasive laparoscopic procedures, in which a tiny surgical instrument is inserted through a small incision. These improved treatment options result in quick recovery, allowing most patients to return to work and regular activities right away.
Talk to your healthcare provider if you experience any of these symptoms:
Leakage when you cough, sneeze, laugh, jump or run
Leakage when you hear running water
Inability to make it to the bathroom on time after feeling the urge to go
Waking up several times at night with an urge to go or with leakage
You no longer have to endure a leaky bladder. Call to learn about treatment options today.
Women's Healthcare Associates
Women's Health Resources
Bone Density Frequently Asked Questions
What is a bone density test?
A bone density test is a dual energy x-ray of the hip, spine or forearm. A bone density scan can tell if you have osteoporosis – a disease where decreased bone strength increases the risk of a broken bone. It is the most common reason for a broken bone among the elderly. Bones that commonly break include the back bones, the bones of the forearm and the hip. There are typically no symptoms until a broken bone occurs. 
Why should I have a bone density test?
Bone density testing is recommended for all women over the age of 65 and postmenopausal women under 65 years who have risk factors for osteoporosis other than menopause. 
The following are potential risk factors for osteoporosis that might suggest the need for a bone density test:
Personal history of fracture as an adult
History of fracture in first-degree relative
Low body weight or thin body stature
Advanced age
Current cigarette smoking
Use of corticosteroid therapy for more than three months
Impaired vision
Estrogen deficiency at early age
Dementia
Poor health/frailty
Recent falls
Lifelong low calcium intake
Low physical activity
Alcohol intake of more than two drinks per day
Thyroid disease
Rheumatoid arthritis
Excessive caffeine consumption
Use of oral contraceptive (birth control pills)
How long does a bone density test take?
Total body measurements take less than 20 minutes.
How do I prepare for a bone density test?
On the day of your test, please wear comfortable clothing (two-piece) without metal fasteners. Let the person doing the test know if you have a surgical device or implant such as a hip replacement, colostomy, etc. You should not have a barium study or nuclear scan 7 days before your bone density exam.
Is a bone density test painful?
During the test, you'll lie on a table during the x-ray – if lying on your back is difficult, you may find this uncomfortable.
When will I receive my test results?
A radiologist, a medical doctor who specializes in reading x-rays, will review your tests and send a report to your doctor, usually within 3 – 4 business days.
We offer bone density screening at two convenient locations. To schedule an appointment, call 417.347.7777.
Wes & Jan Houser Women's Pavilion
located inside Freeman Women's Center
1532 W. 32nd Street
Joplin, Missouri
Freeman Neosho Women's Pavilion
located inside Freeman Neosho Medical Building
336 Jefferson St.
Neosho, Missouri
Learn About Your Biopsy
Wes & Jan Houser Women's Pavilion offers the Mammotome® Breast Biopsy System, a minimally invasive system that provides safe and accurate biopsies. The entire procedure is performed through a small probe that is inserted into a single incision about the size of a match head, which minimalizes pain, scarring and recovery time. Here's what you or someone you care about can expect when undergoing a breast biopsy using the Mammotome system.
Preoperative
1. Patient positioning depends on the imaging method used. If the procedure uses ultrasound imaging, a doctor will obtain images of the breast tissue while the patient lies on her back. In stereotactic procedures, patients lie facedown on a special table. The woman's breast protrudes through a hole in the table's surface, where it is lightly compressed and immobilized while a computer produces detailed images of the abnormality.
2. The patient is given a mild sedative and an analgesic (such as Tylenol®) to reduce anxiety and discomfort.
The Procedure
3. Once the area to be biopsied has been located and mapped, the Mammotome probe is inserted through a small one-fourth-inch incision in the breast.
4. When the probe is positioned at the area of concern, it gently vacuums, cuts and removes tissue samples for examination. The samples pass through the hollow chamber of the probe into a collection chamber. Because the Mammotome probe is directional, we can collect multiple specimens without having to remove and reinsert the device.
Postoperative
5. To continue to monitor your breast health following a breast biopsy using the Mammotome system, the doctor may place a small stainless steel MicroMark® II Tissue Marker to identify the biopsy site. While this tiny marker is undetectable to the patient, it enables a physician to keep track of an abnormality in future mammograms.
6. The Mammotome probe is removed after the samples have been collected, and the single incision is closed with a small adhesive bandage.
Mammotome Facts
More than 750,000 women have had successful breast biopsies using the Mammotome procedure since 1996.
The Mammotome Breast Biopsy System is offered in approximately 1,600 hospitals, breast centers and physician offices.
Breast biopsies using the Mammotome system are performed in an outpatient setting or doctor's office under local anesthesia.
Tissue samples collected using the Mammotome system are just as reliable as open surgical biopsies and three times more accurate than core needle biopsies in the diagnosis of conditions associated with early breast cancer.
The Mammotome system is suitable for sampling breast abnormalities including microcalcifications, spiculated masses, asymmetric densities, multifocal disease and diffuse tissue.
Approximately 95 to 99 percent of all health insurance plans cover breast biopsies using the Mammotome system.
Patients can return to normal daily activity immediately following a breast biopsy using the Mammotome system.
This Mammotome information is provided courtesy of Ethicon Endo-Surgery.
One in eight women will face breast cancer in her lifetime. However, breast cancer screenings can help improve the chances that breast cancer will be detected early and treated successfully. 
In 2013, more than 12,000 women were diagnosed with cervical cancer. According to the CDC, cervical cancer is the most preventable cancer that affects women. Early detection is key — regular screenings, called Pap tests, can detect changes in your cervical cells and increase the chance that cervical cancer will be found early and treated successfully. Most cervical cancer is caused by human papillomavirus (HPV), a sexually transmitted disease; HPV can be detected with an HPV screening.
Freeman physicians recommend the following:
Cervical cancer screenings for women starting at age 21, as directed by your physician
Regular HPV screenings for women starting at age 30
HPV vaccine for females ages 13 - 26
Often, cervical cancer does not produce symptoms until it has developed into a later stage. Symptoms of later-stage cervical cancer can include:
Changes in menstrual cycle
Abnormal vaginal bleeding
Unusual discharge
Pain during intercourse
Other diseases can cause these symptoms as well. If you are experiencing any of the above symptoms, please call your physician today to make an appointment. If you would like help finding a medical provider, please call the Freeman Physician Finder at 417.347.3767 or 800.297.3337.
Celebrate National Wear Red Day® with Go Red For Women and Freeman Health System to help fight women's #1 killer – heart disease.
Heart disease claims more lives than all forms of cancer combined. For more than 10 years, the American Heart Association has sponsored National Wear Red Day® to raise awareness in the fight against heart disease in women.
2014 was the 11th year anniversary for National Wear Red Day® and during that time, there have been some major accomplishments, including:
21% fewer women dying from heart disease
23% more women aware that it's their #1 health threat
The publishing of gender-specific results, established differences in symptoms and responses to medications, and women-specific guidelines for prevention and treatment
Legislation to help end gender disparities
Freeman has partnered with NO MORE to spread awareness about and help end domestic violence and sexual assault. The NO MORE symbol stands for the hope we all feel that domestic violence and sexual assault can be eradicated in our lifetime.
How you can help
Visit nomore.org to download the NO MORE symbol. You can promote NO MORE in a variety of ways, including:
Wear it on a t-shirt or button
Make and sell your own products to support local shelters and hotlines
Share it on Facebook, Pinterest and Instagram
Tweet about it
Highlight it on your company's website
Incorporate it into events at your office, on your college campus or in your child's school
Relationship warning signs
Economic abuse
Controlling access to financial information
Refusal to share money
Preventing partner from having or keeping a job
Taking partner's money
Not allowing partner's name to be on accounts, which would allow partner to build credit
Demanding account of all purchases
Emotional abuse
Name calling, insults, continual criticism
Extreme jealousy or possessiveness
Isolation from family or friends
Monitoring where partner goes & who partner spends time with
Withholding affection as punishment
Threats to hurt partner, children, family or pets
Humiliation of partner in any way
Expectation of partner to ask permission
Physical abuse
Damaging property when angry (thrown objects, punched walls, kicked doors, etc.)
Pushing, slapping, biting or kicking
Abandoning partner in a dangerous or unfamiliar place
Driving recklessly to scare partner
Using of a weapon to threaten or hurt partner
Trapping partner at home
Preventing partner from calling police or seeking medical attention
Need immediate help?
Through the Sexual Assault Nurse Examiner (SANE) program, Freeman doctors and nurses offer free forensic exams and compassionate care to adult female and male sexual assault victims at the Freeman Hospital West Emergency Room in Joplin. The program provides a coordinated hospital response and comprehensive care for victims of sexual violence. For more information, call 417.347.7263 or click here.
Lafayette House
417.782.1772 / lafayettehouse.org
National Domestic Violence Hotline
1.800.799.SAFE (7233) / thehotline.org
National Sexual Assault Hotline
1.800.656.HOPE (4673) / chat at online.rainn.org / www.rainn.org
Loveisrespect: Teen Dating Violence Hotline
1.866.331.9474 / text 'loveis' to 22522 / chat at loveisrespect.org
1in6: Resources for Male Survivors of Childhood Sexual Abuse
1in6.org / Online Support Line at 1in6.org/men/get-help
Safe Helpline: Sexual Assault Support for the Department of Defense (DoD) Community
877.995.5247/ Online Helpline at safehelpline.org/about-dod-safe-helpline
Source: nomore.org
Serving You with Convenient Locations in Joplin and Neosho
Convenient Women's Healthcare
At Freeman Women's Center, you'll find obstetrics and gynecology services, as well as a conveniently located outpatient lab.
When you need a mammogram, bone density screening or other diagnostic procedure, we provide care in a comfortable, soothing, compassionate and respectful atmosphere. Our team of surgeons, radiologists and registered mammography technologists uses the latest technology to ensure you receive the best care, advice and treatment.
Wes & Jan Houser Women's Pavilion is designated Breast Imaging Center of Excellence by the American College of Radiology (ACR). By awarding facilities the status of Breast Imaging Center of Excellence, the ACR recognizes breast imaging centers that have earned accreditation in mammography, stereotactic breast biopsy and breast ultrasound.
Shop for your health
Located on the first floor of Freeman Women's Center, Pink Door Boutique specializes in hard-to-find women's health products and gifts for women of all ages. Our services include personal consultations for wigs and Jane Iredale mineral cosmetics and private fittings for bras and postmastectomy products in the Positive Appearance Corner by La-Z-Boy. Click here to learn more about Pink Door Boutique.
Thanks to a very generous benefactor, Freeman Women's Pavilion Neosho opened its doors November 7, 2011, to provide Neosho residents with digital mammography and bone densitometry.
Digital mammography, the best technology available for breast cancer screening, uses compression and x-rays to examine a breast and capture an image on a computer. Compared with film mammography, digital offers greater contrast, detail and penetration of dense breast tissue. By using digital mammography, a radiologist can better examine breast tissue. 


Freeman Neosho Women's Pavilion
located inside Freeman Neosho Medical Building
336 S. Jefferson St.
Neosho, Missouri
417.455.4303

8 am– 4:30 pm Monday–Thursday
8 am–noon Friday
Joplin, MO
Freeman Women's Center
Freeman OB/GYN Associates: 417.347.8660
Freeman Ozark Obstetrics and Gynecology: 417.347.2525
Freeman Women's Healthcare Associates: 417.347.7009
Visit us
Freeman Women's Health Specialists