Bariatric Surgery
Start your weight loss journey today by calling Janice at 417.347.1266.
Struggling with your weight or related medical problems? We know how frustrating that can feel – especially when countless dieting programs haven't delivered the results you need to transform your health and life.
At Freeman Bariatric Center, we may have just the solution for you. Our board-certified surgeon T. Brad Coy, DO perform safe and proven weight loss procedures, using the most minimally invasive techniques possible. From your first visit through ongoing follow-up care, we provide the support you need to achieve your weight loss goals.
Of course, our program isn't just about the weight. Bariatric surgery can help reduce or reverse diabetes, hypertension, high cholesterol and other chronic conditions. You may also benefit from less joint pain, better sleep, more confidence and the freedom to live an active and healthier life.
Weight Loss Surgery Options
Duodenal switch surgery is a weight-loss procedure that combines the principles of restriction and malabsorption by making the stomach smaller and rerouting the intestines. This combination of treatments is a proven, effective way to lose weight and improve weight-related health issues.
What is duodenal switch surgery?
Biliopancreatic diversion with duodenal switch (BPD-DS) surgery is a 2-part procedure in which approximately 75-80% of the stomach is removed (similar to the gastric sleeve surgery). Then, a small, tubular stomach pouch is created. The outlet of the newly created stomach pouch is then connected to the last portion of the small intestine called the duodenum.
How does duodenal switch surgery work?
Food empties directly into the duodenum, bypassing about ¾ of the small intestine. This causes the body to absorb fewer calories and nutrients. Duodenal switch surgery affects hormones in the gut to reduce hunger, increase satiety (satisfied feeling of being full after eating) and help control blood sugar to effectively treat diabetes.
What are the benefits of duodenal switch surgery?
Duodenal switch surgery provides the highest average expected weight loss available among bariatric procedures and offers the best chance of curing diabetes (up to 98%).
After surgery, the stomach is roughly the size and shape of a banana and can hold approximately 3 ounces of food, as compared to the average stomach which can hold up to 4 cups of volume. Additionally, by shortening the path food travels through in your intestine you absorb fewer calories. This combination of restriction and malabsorption creates a rapid weight loss. BPD-DS will not eliminate your desire for food completely, but many people eat because it is time not because they feel hungry.
About Gastric Bypass Surgery
In gastric bypass surgery, a small stomach pouch is created by dividing the top of the stomach from the rest of the stomach. The first portion of the small intestine is divided and connected to the newly created stomach pouch. The other portion of the divided small intestine is then connected further down the small intestine so the stomach's acids and digestive enzymes in the bypassed stomach will still be able to react with food. This surgery limits the amount of food you can consume before feeling full. Most patients see up to 80% excess weight loss within 18 months.
Changes in gut hormones are a result of the rerouting of the food stream. These hormones help make you feel fuller, suppress hunger and reverse one of the primary mechanisms that causes type 2 diabetes.
Advantages
Produces significant long-term weight loss (60 to 80 percent excess weight loss)
Restricts the amount of food that can be consumed
May lead to conditions that increase energy expenditure
Produces favorable changes in gut hormones that reduce appetite for sugary or carb-loaded foods.
Disadvantages
Gastric bypass surgery is a more complex operation than the gastric sleeve
Requires adherence to dietary recommendations, life-long vitamin/mineral supplementation, and follow-up compliance
About Sleeve Gastrectomy
Gastric sleeve surgery involves surgery on the stomach only (considered a "restrictive" procedure). A thin vertical sleeve of stomach is created using a stapling device, and the rest of the stomach (roughly 2/3) is removed. The sleeve is about the size of a banana. The smaller stomach restricts the amount of food you can consume in a single sitting, providing a quicker sense of fullness and decreased appetite. Food passes through the digestive tract in the usual order, allowing it to be fully absorbed in the body.
Advantages
More rapid improvement in type 2 diabetes and other obesity-related conditions than gastric banding
Less likely than gastric bypass to result in vitamin, protein or mineral deficiency
No dumping syndrome (nausea, vomiting, sweating, abdominal pain, diarrhea)
May decrease hunger as the procedure removes most cells that produce ghrelin (the "hunger hormone")
Highly effective as a first-stage weight-loss procedure for severely obese patients
Disadvantages
Large portion of stomach is removed, making it irreversible; however, it can be converted to a gastric bypass, if needed
Long-term results are unknown with a potential to "stretch out" the new stomach area with loss of restriction and weight gain
Why Choose Freeman?
Everything You Need to Succeed
Accreditation: Freeman Bariatric Center has been accredited as a Comprehensive Center under the Metabolic and Bariatric Surgery Accreditation and Quality Improvement Program (MBSAQIP®), a joint program of the American College of Surgeons and the American Society for Metabolic and Bariatric Surgery. The first and only comprehensive bariatric program in the area to be accredited within a 65-mile radius, Freeman Bariatric Center meets the highest standards for patient safety and quality of care.
Expertise: If you're a candidate for weight loss surgery, rest assured you're in highly skilled hands. Our surgeons are among the most experienced in Southwest Missouri, performing hundreds of bariatric procedures each year. We have some of the lowest hospital readmission rates in the region, and have been rated #1 in the area for medical excellence and patient safety by CareChex®, an independent quality rating system that helps consumers evaluate healthcare providers.
Personalized guidance: Wherever you are on your weight loss journey, we'll help you find your way. Our program coordinator, Janice Drake, RN, is your personal guide, and will work one-on-one with you to create a plan for success. She'll also coordinate your seminar appointment and is available to answer any questions you may have at any time.
Care for the whole you: At every step, you'll have the same dedicated team of weight loss experts by your side. That includes a registered dietitian, financial counselor, psychologist and more – all committed to your total well-being.
Less pain, faster recovery: Our surgeons are trained in the latest laparoscopic and open-surgical techniques, requiring just a few small incisions. For you, that may mean less pain, fewer complications and faster recovery, so you can get started right away on your goals.
Lifelong support: Life after surgery can be a challenge, both physically and emotionally, as you commit to a whole new way of life. Our after-care program includes continued dietary and lifestyle counseling, plus monthly bariatric support groups to help you stay on track.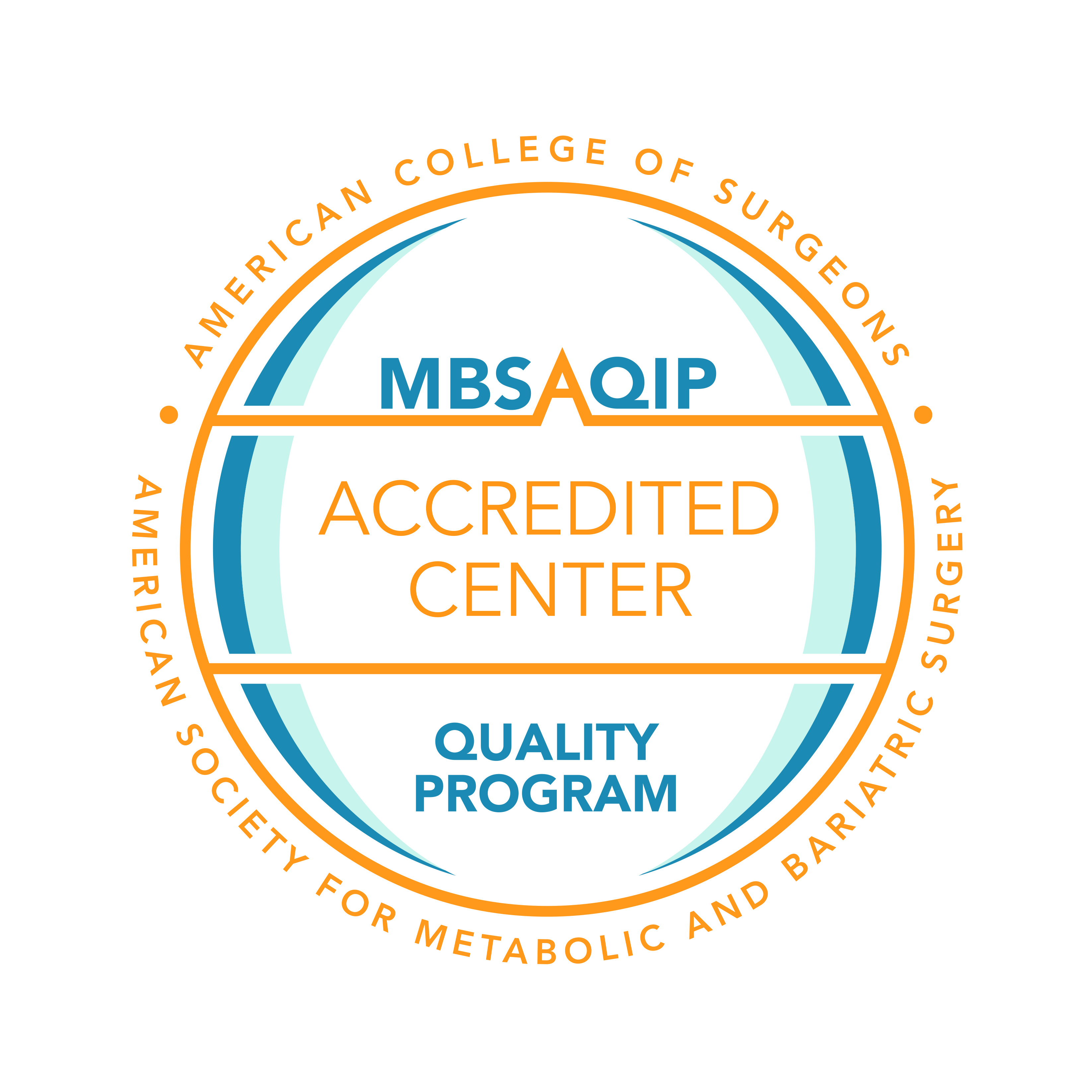 Helpful Resources
Watch our bariatric center seminar to learn more!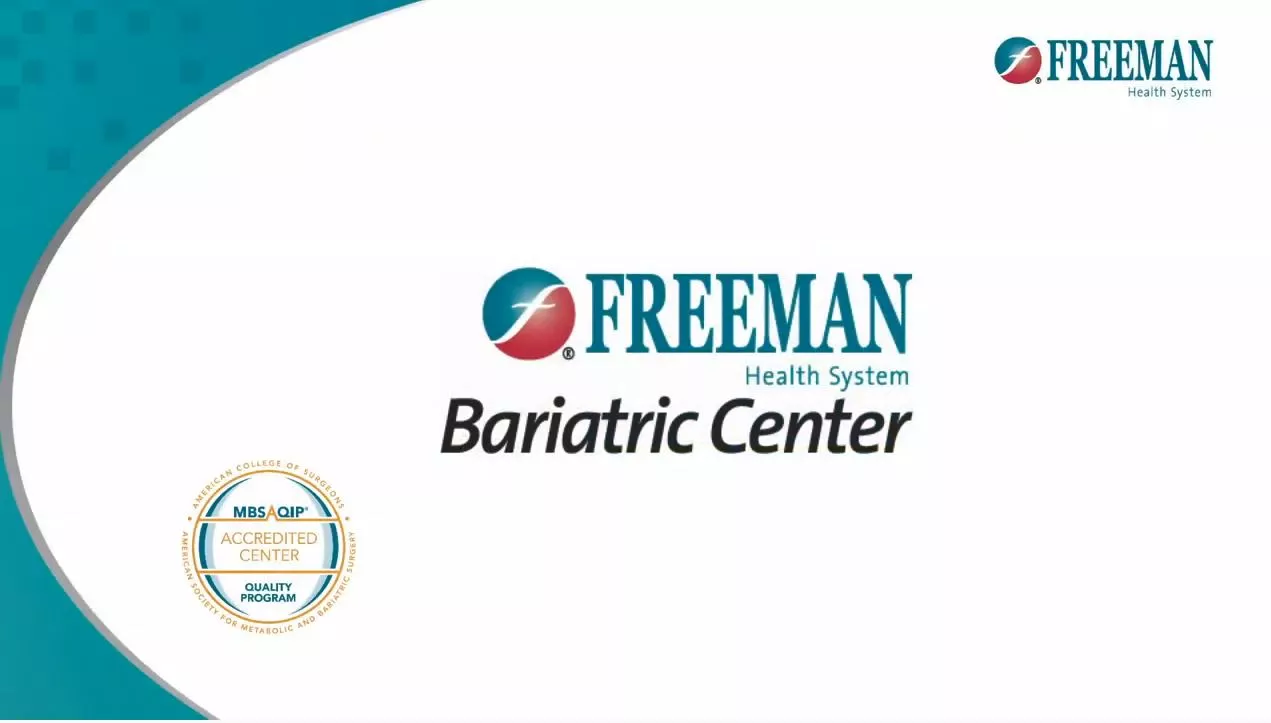 Your body mass index (BMI) is used to determine level of obesity and your related risk for other serious health issues, such as heart disease, high blood pressure and type 2 diabetes. Calculate your BMI now using this easy tool:
To qualify for one of Freeman's weight loss-surgery options, you must have a BMI over 40, which is typically at least 80 -100 lbs. overweight. You may also be eligible if your BMI is over 35 and you have certain medical problems caused by obesity.
If you think you may be a candidate, please join us for a free weight-loss surgery seminar. One of our board-certified surgeons will walk through the different types of procedures we offer and answer any questions to help you make an informed decision.
Call 417.347.1266 to register for an upcoming seminar, or request more information online.
Though weight loss surgery is not a quick fix, it can be part of a plan to help you achieve significant weight loss, relieve serious health problems and give you the chance to live the life you've always wanted.

You may qualify for a weight loss procedure if you are:
Between the ages of 18 and 65
Obese with a body mass index (BMI) of 35 or above (calculate your BMI here)
Struggling with a weight-related condition like type 2 diabetes hypertension, heart disease or obstructive sleep apnea
Have tried or are currently trying to lose weight through other means such as diet and exercise
Psychologically ready for weight-loss surgery and important lifestyle changes
Not drug or alcohol dependent
If you meet any of the criteria, be sure to attend a free seminar from Freeman Bariatric Center. A board-certified surgeon will provide in-depth information on a variety of options and see if surgery can help you renew your health and life.

To save your spot, call 417.347.1266 or request more information online.
Benefits of Bariatric Surgery
According to the American Society for Metabolic and Bariatric Surgery, weight-loss surgery may help you:
Achieve significant and lasting weight loss: By changing your gastrointestinal anatomy, bariatric procedures limit food consumption and affect changes in your hormones that reduce hunger and help you feel full longer. Also, studies show that more than 90% of bariatric patients are able to maintain a long-term weight loss of 50% excess body weight or more, when combined with dietary and lifestyle changes.
Improve or resolve related conditions: Bariatric surgery has proven to improve diseases caused or worsened by obesity, including heart disease, hypertension, stroke, sleep apnea, arthritis, asthma, acid reflux and more. It has shown to drastically reduce –  or even eliminate – type 2 diabetes.
Enjoy a longer life: Several large studies of severely obese people have found that those who had bariatric surgery have a much lower risk of death than those who have not. The exceptionally low mortality rate is remarkable, considering that most patients are in poor health and have one or more life-threatening diseases at the time of their surgery.
Enhance your overall well-being: Dramatic weight loss from bariatric surgery brings more than just physical transformation. Studies have shown that self-esteem, work, social interactions and sexual function all improve.
Risks of Bariatric Surgery
As with any major surgery, weight loss procedures carry some risks. Our surgeons and dedicated weight loss team will carefully review all potential complications well before your surgery. Generally, the risks associated with weight loss surgery are significantly less than the risk of remaining morbidly obese. At Freeman, you can find extra piece of mind knowing we have some of the lowest hospital readmission rates in all of Southwest Missouri.
Navigating Cost and Insurance Coverage
The cost of a bariatric procedure depends on several factors, including the type of surgery you're having, length of hospital stay and your specific insurance plan. Our RN program coordinator, Janice Drake, will work closely with you to help determine coverage, including any required visits with our dietitian and psychologist, and submit all documentation for approval.
Lifelong Commitment
Whichever weight loss procedure is right for you, it's important to remember that the program requires a permanent commitment to a whole new way of life. You can count on support for the long haul, starting with pre-operative education to make and maintain important dietary and lifestyle changes. Following surgery, we'll closely monitor your progress and provide the ongoing care you need to become and remain healthy.
A life-long commitment
Surgery gives patients the physical tool to assist with weight loss, but patients must be committed to making the mental and emotional changes necessary after weight-loss surgery. Patients who undergo weight-loss surgery must be committed to healthy eating, office follow-ups, exercise and support group attendance for life. Emotional and physical well-being is dependent on this commitment.

Personal responsibility
Patients who commit to eating healthy foods, take the required supplements, have routine blood work drawn and incorporate an exercise program into their lifestyles have increased potential for the best long-term results.

Balanced nutrition and diet
Adhering to healthy nutrition after weight loss is essential for long-term success and weight maintenance. Incorporating all of the food groups according to the American Dietetic Association (ADA) guidelines is a place to begin for good health.

Support groups
Support groups are an integral part of the healing process, physically and emotionally. All patients are encouraged to incorporate a support group into their monthly schedule. Bariatric support group is held the third Tuesday of every month at 5:30 pm, at Freeman Business Center conference rooms.

Exercise
In a reduced calorie state, the body's natural tendency is to use muscle for immediate energy needs. Therefore, it is essential to incorporate a fitness program after surgery. Exercising at least three times per week conserves lean muscle mass, burns fat and increases your potential for long-term success.

Vitamins, minerals and protein supplements
Because weight-loss surgery changes the digestive process, life-long nutritional supplements are essential. You will be given information and recommendations on where and what to purchase. Vitamin deficiencies are often predictable and preventable. Take your vitamins and supplements, and commit to seeing your surgeon on a regular basis for lab work and follow-up.
Weight loss surgery is the start of a lifelong commitment to healthier living. At Freeman Bariatric Center, we'll be with you every step of the way.

The success of our program starts with our bariatric surgeons, who combine years of experience, advanced training and compassionate care to help you reach your goals.

You'll also have the support of your own dedicated care team through every phase of your weight loss journey. We're here to lean on –  and cheer you on –  as you find the results you deserve. Together, we'll explore a variety of options and see if surgery is right for you.

Call 417.347.1266 to save your spot at an upcoming session, or request more information online.
T. Brad Coy, DO – Bariatric Surgeon
Dr. Brad Coy is a highly skilled physician at Freeman Bariatric Center. Board-certified in general surgery and vascular surgery, he completed medical school as Kirksville College of Osteopathic Medicine, Kirksville, Missouri. Dr. Coy completed an internship at Conemaugh Valley Memorial Hospital, Johnstown, Pennsylvania, followed by his residency at Doctors Hospital, Columbus, Ohio. He joined Freeman Health System in 2001.

In addition to bariatric surgery, Dr. Coy also practices general surgery. Dr. Coy is a member/affiliate of many professional organizations, including the American Osteopathic Association, American College of Osteopathic Surgeons and PSI Sigma Alpha National Osteopathic Scholastic Honor Society Lifetime Member, just to name a few.

When he's not caring for patients, Dr. Coy enjoys spending time with his wife, children, and grandchildren.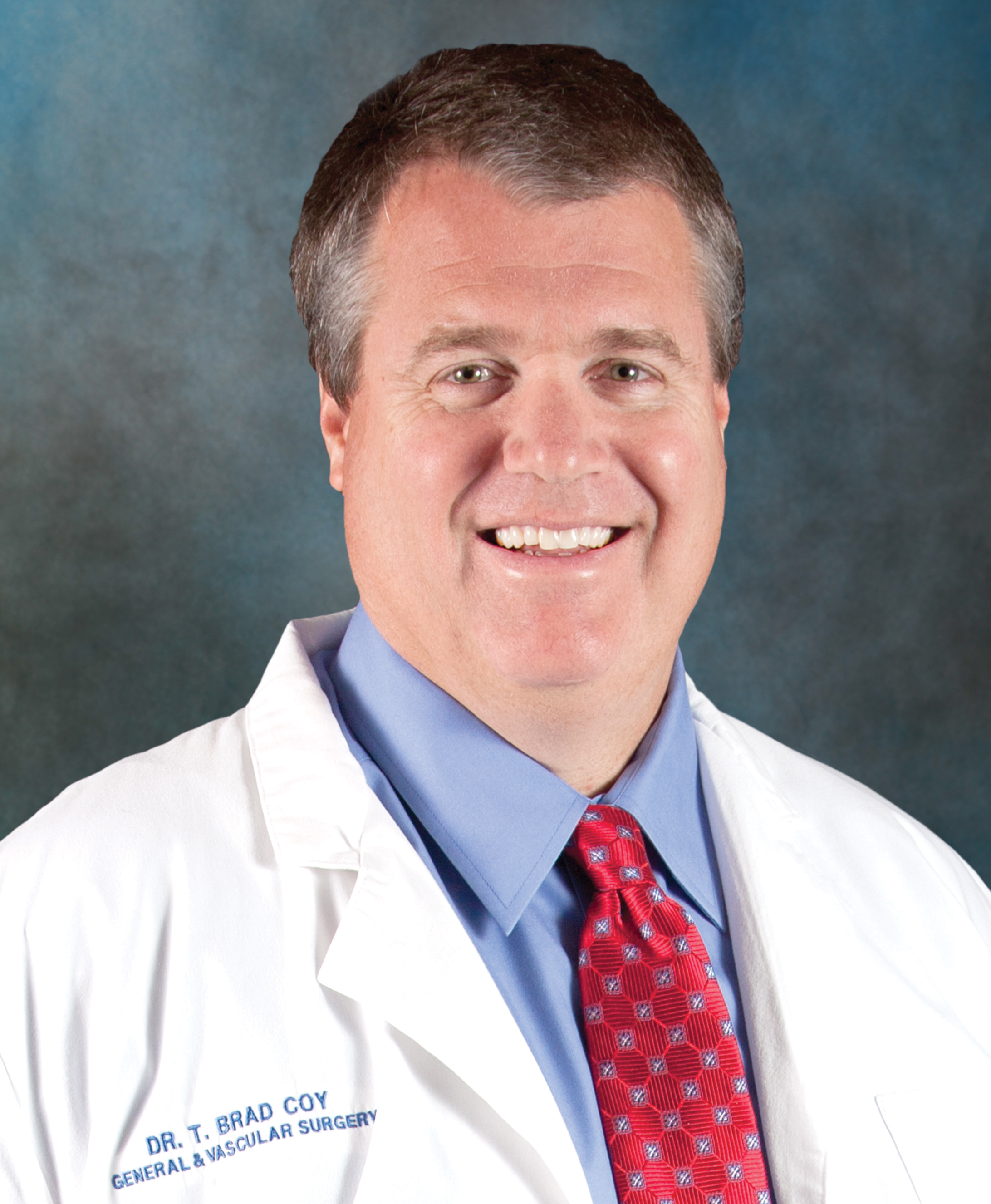 David Baker, DO – Bariatric Surgeon
Dr. David Baker is a board-certified, highly skilled physician at Freeman Bariatric Center. He earned his medical degree from Kansas City University of Medicine and Biosciences, Kansas City, Missouri. Dr. Baker completed his residency at Doctors Hospital, Columbus, Ohio, followed by an internship at Freeman Health System, Joplin, Missouri, and C. Roy Adair Research Fellowship at the University of Arkansas, Fayetteville, Arkansas. Dr. Baker joined Freeman Health System in 2009.

In addition to bariatric surgery, Dr. Baker also practices general surgery, and serves as medical director for both breast specialty services and surgical center at Freeman. Dr. Baker is a member of the American Society of Breast Surgeons, American Osteopathic Association, American College of Osteopathic Surgeons and Society for American Gastrointestinal Endoscopic Surgeons. He has published research on a variety of topics, including fever in the ICU, wound healing and BMI risk factors.

When he's not caring for patients, Dr. Baker enjoys spending time with his family, traveling, swimming, biking, running, golf, fine dining and traveling.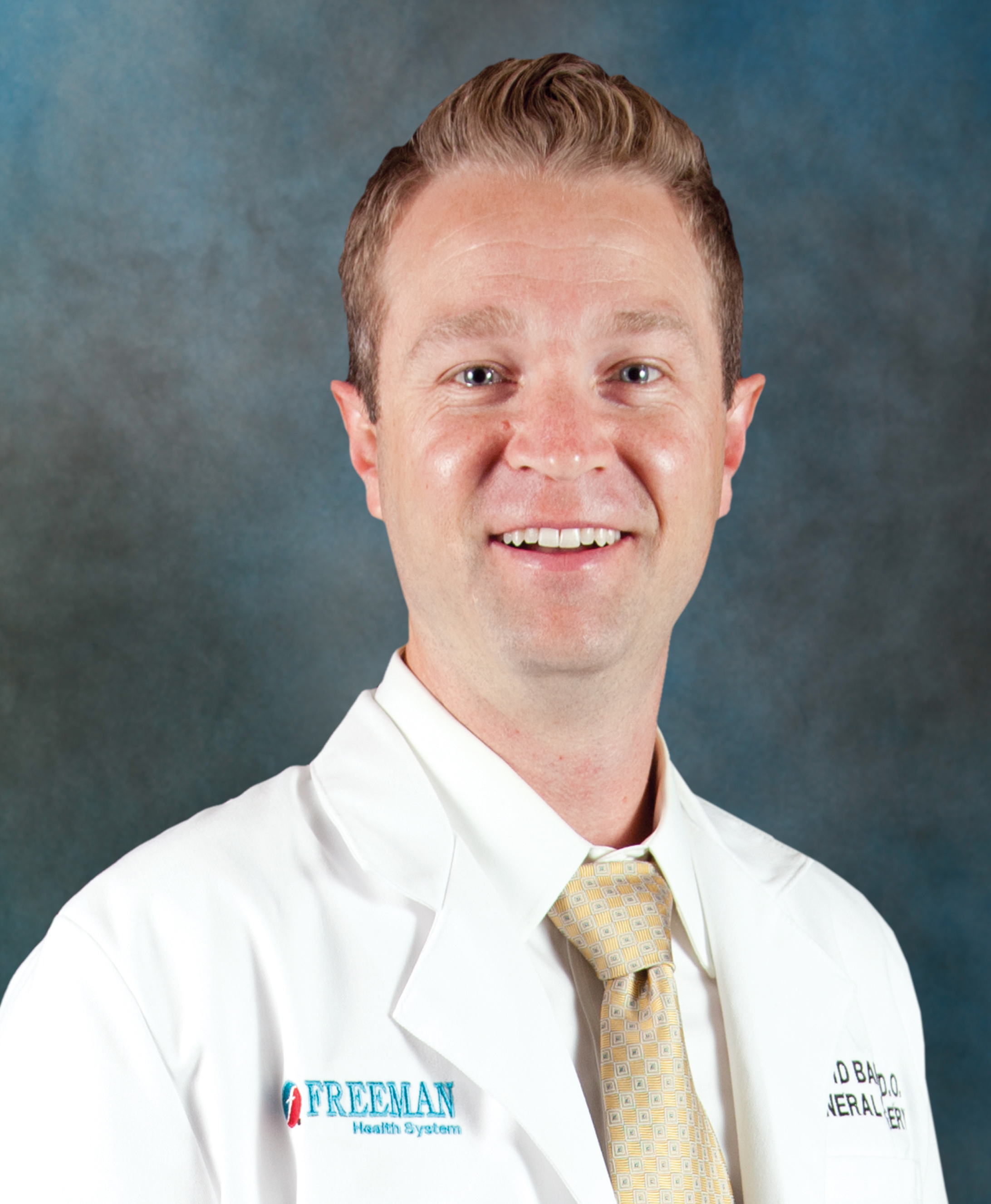 Janice Drake, RN, BSN – Bariatric Program Coordinator
As a registered nurse and our Bariatric Program Coordinator, Janice assists weight loss surgery patients from start to finish.
She completed her Bachelor of Science in Nursing from Oklahoma Wesleyan University in Bartlesville, Oklahoma. Working in the operating room for 30 years, Janice served as a surgical technician, circulating nurse and a charge nurse. She then transitioned to bariatric surgery at the inception of the program. In her role as Bariatric Program Coordinator, Janice enjoys building relationships with patients and helping them achieve their goals.
In her personal time, Janice enjoys exploring antique stores, flea markets and craft fairs, as well as working in her yard, where she ensures her blooms are up-to-date with the season. She also likes spoiling her dog, Mylie.
Jennifer D'Amour – Registered Dietitian
Jennifer is a registered dietitian and certified diabetes educator who works closely with bariatric patients during the weight-loss journey. She earned a Master of Science in nutrition and has been a practicing dietitian since 1998.
When she's not with patients, Jennifer likes spending time with her husband, two teenage sons and the family dog. She also enjoys exercising and reading.
At Freeman Bariatric Center, we're committed to your long-term health and wellness. Whether you've already had your surgery or just want to learn more about the experience, be sure to join our free support group near you.
Members of our weight-loss team facilitate discussion on a variety of life-after-surgery topics, including:
Weight goals
Body image
Calcium and bone health
Exercise plans
Getting back on track
Nutrition, including vitamin and mineral guidance
Stress management
We talk about the transition for you and your loved ones, and help you make any adjustments. Plus, it's a great opportunity to share triumphs and challenges with people on a similar path.

No registration required.

When: 5:30 - 6:30 pm
Third Tuesday of every month

Where: Freeman Business Center Conference Room
3220 McClelland Blvd. (rear entrance)
Joplin, MO 64804

For more information, call our dedicated RN program coordinator, Janice Drake, at 417.347.1266.
Weight Loss Surgery Success Stories
Every day, we're inspired watching our four-state area patients take charge of their health and lives, and are privileged to help guide that transformation. We invite you to share in a few of their stories at Freeman Bariatric Center, and remember, you can have your own great success. 

Start with a free weight loss surgery seminar. One of our board-certified surgeons will explore a variety of life-changing options and answer any questions to help you make the best decision for your life.

Call 417.347.1266 or request more information online.
Gastric Sleeve Surgery
Tanya S.
For Tanya, maintaining a healthy weight was always a struggle. She had spent years balancing her nursing career at Freeman Health System with life as a single mom, which inevitably caught up with her. "I grappled with my weight, time management and bad eating habits. I had very little energy and struggled with my self-image."

Tanya's stress intensified when her mom chose to undergo weight loss surgery. She worried about complications, and how she could take care of her on top of everything else. But those fears were unfounded – and proved to be the inspiration she needed. "My mom's surgery was a smooth success. I saw her becoming healthier and more active, and became excited about the possibilities for myself."

After consulting with her Freeman Health colleagues, including bariatric surgeon, Dr. David Baker, Tanya decided to pursue gastric sleeve surgery and a new commitment to healthier living. She knew it would require hard work, but found support at every step. "I took a nutrition class six months before surgery, and joined a monthly support group after my procedure. Everyone from my doctors to the insurance specialist and other team members were always there for me." 

Just three months after surgery, Tanya was down 50 pounds. As she continues to lose weight, she appreciates all that she's gained. "For the first time in a long time, I see myself as beautiful. And I feel so much better. Instead of watching my kids play, I'm now on the trampoline with them. And now that they can wrap their arms around me tightly makes it all worth it."