We Listen... We Care
About Us
Ozark Center, a 501(c)(3) not-for-profit organization, has been providing behavioral health services in February 1965 and became an entity of Freeman Health System in 1996. We employ about 600 employees in 30 locations across Jasper, Newton, McDonald and Barton counties, and serve approximately 14,000 clients.
At Ozark Center, we continually seek new ways to provide quality services to our clients by exploring new products, services and locations in an effort to provide our clients with quality mental healthcare. We believe that a community-based system is inherently more responsive to the needs of the community and the individuals served.
Since opening, we have continued to expand services and programs in the communities we serve through innovation, pursuit of grants, fundraising activities and passion for providing gold-standard, evidence-based services. This is reflected in our mission statement – "To improve the health of the communities we serve through contemporary, innovative, trauma-informed, quality healthcare solutions."
As the area's largest and most comprehensive behavioral healthcare provider, our qualified staff provides effective, caring and confidential services for adults, families and children, including:
Individual, group and family therapy
Psychiatric services/medication management
Residential care
Acute inpatient care
24-hour crisis services
In-home support
Our goal is to assist people of all ages who are dealing with mental illness, addiction, trauma and/or abuse to develop the skills essential for living a life with dignity and purpose. Ozark Center provides a comprehensive system of mental healthcare programs from outpatient to hospitalization.
You can support Ozark Center's mission to improve the health of our community by making a donation to support programs like Turnaround Ranch and Bill & Virginia Leffen Center for Autism.
Person-Centered Philosophy
Services at Ozark Center will be focused on your needs, and our planning approach will be person-centered. Treatment will be based on your expressed desires, your abilities, your capabilities and the supports necessary to reach your goals. Your services and supports will be provided in an environment that promotes maximum independence, community inclusion and quality of life.
At Ozark Center, we consider family members a valuable part of your support team. Treatment development will fully explore your and your family's desires with respect to health, welfare, integration, lifestyle decisions, hopes and dreams, while encouraging support, enabling choice and control, and supporting independence and integration.
Vision
Individuals experiencing mental health and substance use challenges, developmental disabilities or the effects of trauma or abuse will develop the skills essential to a life with dignity and purpose.
Our Mission
To serve those in need of behavioral health services through contemporary, innovative, evidence-based, trauma-informed, quality, behavioral health care.
Values
Welcoming
Exceptional
Data-driven
Engaged
Trustworthy
Collaborative
Culturally aware
Passionate
Responsive
Quality of Care
Ozark Center has received a three year accreditation from the Commission on Accreditation of Rehabilitation Facilities (CARF), an independent, international agency that monitors quality in the delivery of mental health services. Ozark Center is also certified and licensed by Missouri Department of Mental Health.
Ozark Center became a Certified Community Behavioral Health Center (CCBHC) on July 1, 2017. As a CCBHC, Ozark Center works to integrate behavioral health with physical healthcare, providing a comprehensive array of services that include crisis care, screening, treatment, prevention and wellness services for individuals with serious mental illnesses and addiction disorders.
Additionally, Ozark Center is one of three community behavioral health centers in southwest Missouri to collaborate on and implement a Substance Abuse and Mental Health Services Administration (SAMHSA) System of Care four year expansion grant to help youths and families affected by or at risk of early onset psychosis.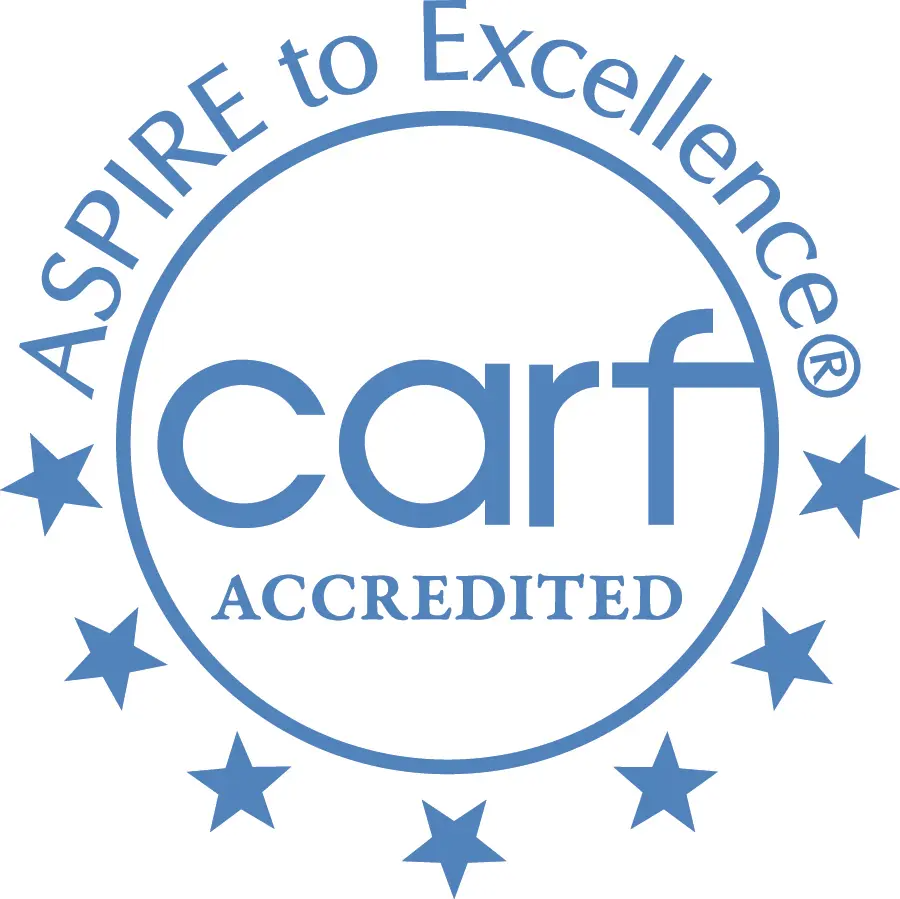 How to Help
Support Ozark Center's mission to improve the health of our community every time you shop on Amazon. Just use this link, and Amazon will donate 0.05 percent of your purchase cost to Ozark Center.
Proceeds from Amazon Smile go to Ozark Center PATH, which provides long-term housing options, teaches effective coping skills and offers services that ease the adjustment to adult life for young adults age 17-22.
You can also make a personal donation to support programs like Turnaround Ranch and Bill & Virginia Leffen Center for Autism.
Community Outreach
Ozark Center caregivers dedicate themselves to providing cutting-edge mental healthcare to meet the needs of their community. Our Speakers Bureau provides outreach and education by offering the services of a wide range of clinical and nonclinical experts, ready and willing to address your next meeting or workshop.
We provide the Speakers Bureau service free-of-charge to the community and welcomes donations to Freeman Foundation. If a speaking engagement involves travel outside of the area, we request payment of the speaker's travel expenses.
To schedule a speaker for your group or organization: Email or call the Freeman Marketing Department during regular business hours at 417.347.6621. We will need your organization name and contact information; topic(s) of interest; date, time, and location of your event; size and age range of your group; and length of time allotted to the speaker. Please submit your request 3 to 5 weeks in advance, if possible.
Ozark Center Speakers Bureau
Behavioral Health - RESPECT Institute
Lisa Badgley, MS, Ozark Center Director of Program Development 

Children's Mental Health
Rono Bowyer, EdS, LCSW, Director of Turnaround Ranch
Dr. Charles Graves, Psychiatrist, Ozark Center Medical Director for Outpatient Psychiatry
Vicky Mieseler, MS, Licensed Psychologist, Ozark Center Vice President of Clinical Services

Mental Health
Del Camp, MS, Licensed Professional Counselor, Vice President of Clinical Operations
Deborah Fitzgerald, EdS, LPC, NCC, Coordinator of Crisis Services and Accreditation
Dr. Charles Graves, Psychiatrist, Ozark Center Medical Director for Outpatient Psychiatry
Vicky Mieseler, MS, Licensed Psychologist, Ozark Center Vice President of Clinical Services
Dr. Arlene Sadowski, EdD

Trauma Informed Care
Vicky Mieseler, MS, Licensed Psychologist, Ozark Center Vice President of Clinical Services
Ozark Center Strategic Plan
Regularly evaluating and measuring our focus, actions, thoughts, communication and most importantly, our overarching purpose, drives results.  
The strategic process is about getting from point A to point B more effectively, efficiently and enjoying the journey and learning from it. Part of that journey is strategy and part of it is execution. Having a good strategy dictates "how" we travel the road we've selected and effective execution makes sure we are checking in along the way. A strategic plan should be adaptive to survive changing or unanticipated conditions. 
This plan provides a road map of success for Ozark Center. It was written by the Board of Directors, executive leadership team and administrative council with feedback from our staff and clients. It is intended to be a comprehensive framework that will result in strategic alignment by pulling all of our people, programs and processes toward our strategy: to be a high-performing organization providing exceptional behavioral health care.
In spite of uncertainties in the behavioral industry, this plan provides us with the opportunity to make the next five years some of the most rewarding and successful years in our history. This success will not come easily. It will demand a commitment to the principles established in this plan, an alignment of purpose throughout our organization and an unprecedented commitment to quality and service.
Vicky Mieseler
Chief Administrative Officer