Compassionate Cancer Care Near You
Freeman Cornell-Beshore Cancer Institute brings together the many services necessary to provide comprehensive care for patients and families dealing with cancer. Our supportive team uses the most advanced technology available to treat and overcome cancer so you can rest assured that you or your loved one is in good hands.
Medical Oncology
Freeman Cornell-Beshore Cancer Institute provides physical and emotional care for patients and families dealing with cancer. We provide comprehensive services and the most up-to-date technological advancements in the fight against cancer – all in one convenient and comfortable setting. To us, patients are more than just their cancer symptoms. From the design of our facility to the support and education groups offered, we strive to meet each patient's unique needs and treat cancer individually and precisely.
Our Facility and Services
Quiet and relaxing exam spaces
Comfortable chemotherapy and infusion areas in a spacious, windowed room
On-site labs offering fast and efficient service
Private consultation areas for education and discussion of treatment options
Clinics in outlying communities
Nutritional counseling available through a Freeman registered dietitian
Freeman Cancer Support Group with monthly meetings at the Freeman Cornell-Beshore Cancer Institute
Extensive community outreach program promoting prevention, early detection and lifestyle management by Freeman Screen Team
Our Multidisciplinary Team
Board-certified medical oncologists and hematologists
Oncology pharmacist on-site
Oncology-certified nurses
Multidisciplinary nurse practitioners
Oncology clinical trial nurse
Social worker and financial staff
Treatment You Can Trust
Freeman Cornell-Beshore Cancer Institute offers the latest technology in patient care, featuring a chemotherapy treatment area  with 20 chemotherapy chairs; an on-site mix pharmacy with state-of-the-art ChemoSHIELD® 600 Barrier Isolator Mix hood, which allows  quicker, safer and more efficient treatments; and a dedicated patient education room.
Our patients — and their families — don't face cancer alone. Through a network of compassionate physicians, nurses and support staff, we provide education, treatment and encouragement throughout our patient's battle with cancer — and throughout their lives.
Quality Oncology Practice Initiative
Freeman Health System has been recognized by the QOPI® Certification Program (QCP™), an affiliate of the American Society of Clinical Oncology (ASCO®), as successfully completing a three-year certification program for outpatient hematology-oncology practices that meet nationally recognized standards for quality cancer care.  QCP builds on ASCO's Quality Oncology Practice Initiative. 
Freeman is the first and only in the area to earn this designation.  More than 900 oncology practices have registered for the QOPI program and more than 290 practices are currently certified.
QOPI analyzes individual practice data and compares these to more than 160 evidence-based and consensus quality measures. The information is then provided in reports to participating practices. Individual practices also are able to compare their performance to data from other practices across the country. Based on this feedback, doctors and practices can identify areas for improvement.
To become QOPI Certified, practices have to submit to an evaluation of their entire practice and documentation standards. The QCP staff and task force members then verify through an on-site survey that the evaluation and documents are correct and that the practices met core standards in areas of treatment, including:
Creating a safe environment—staffing, competencies, and general policies
Staff training and education
Treatment planning, education and patient consent
Ordering, preparing, dispensing, and safely administering chemotherapy
Monitoring for treatment-related side effects after chemotherapy is administered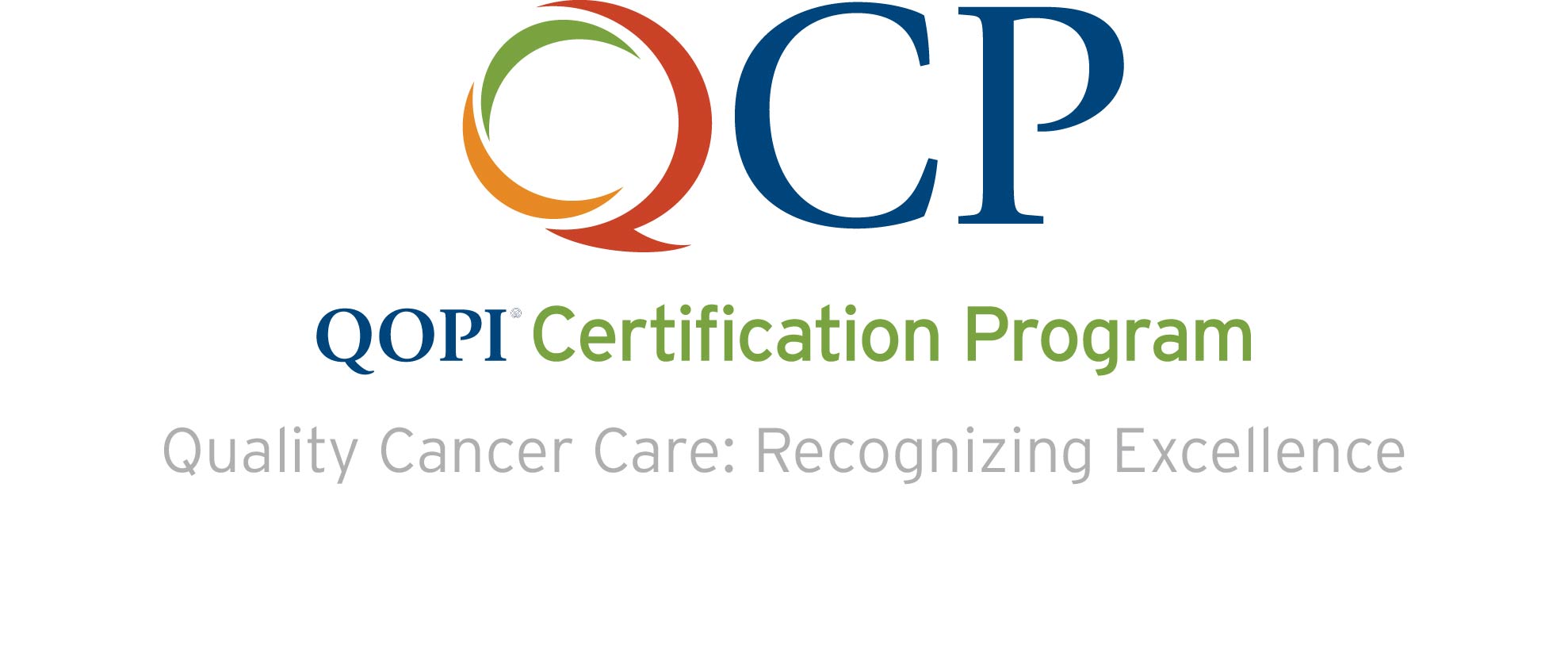 Treatment Options
During HDR brachytherapy treatments, a high intensity radiation source is delivered through a catheter to the tumor site with millimeter prevision through computer guidance.  Because cancer often affects organs and other essential structures, it is important for radiation treatment to be tightly focused on tumors to minimize serious side effects. This technique ensures the maximum radiation dose is given to cancerous tissues, while minimizing exposure to the surrounding healthy tissue.High-dose rate brachytherapy is a powerful form of internally delivered radiation therapy that destroys many types of cancers, including skin, cervical, prostate and breast.  HDR brachytherapy can be used as a standalone treatment or after a tumor has been surgically removed to eliminate any remaining cancerous cells.
The overall treatment time at the tumor site is generally 10 to 20 minutes.  Treatment is delivered either once or twice per day for approximately one week.  The radiation source is completely removed after each treatment and no radiation remains inside the body between treatments.  Depending on the type of cancer being treated, a high-dose rate treatment plan may require one session or multiple sessions over a course of up to one week.
Depending on the tumor location, treatments are minimally invasive and are performed as outpatient procedures.  There are fewer side effects than external radiation, such as burning or irritation to the skin.
Extremely precise radiation therapy delivered internallyBenefits of HDR brachytherapy:
Used along or applied after surgery to help prevent recurrence of cancer
Convenient treatments
Usually pain-free
Minimizes risk of common short- and long-term side effects
Freeman Cornell-Beshore Cancer Institute – dedicated to bringing the most advanced and complete cancer therapy to Joplin and surrounding communities – now offers Optune, a treatment for patients with glioblastoma, an especially aggressive form of brain and spinal cord cancer. 
Optune is a portable, non-invasive skull cap that uses tumor-treating fields (TTFs), which are alternating electric fields directed through the tumor area. The goal of these TTFs is to stop the tumor cells from dividing and cause the tumor cells to die. These TTFs are generated by placing electrodes on the patient's head as directed by the physician. 
This treatment has the potential to extend a patient's life, has very few side effects and is well-tolerated. Freeman is pleased to be able to offer this treatment and the hope it provides.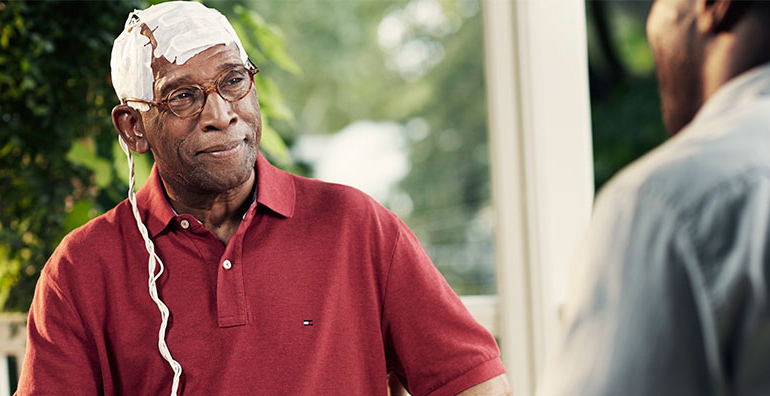 Freeman is the first and only hospital in the region offering the OsteoCool™ RF Ablation System, a pain-relieving procedure for treating bone tumors.
For cancer patients, tumors that have metastasized – or spread – to surrounding bone can affect quality of life, producing complications such as pain, fractures and decreased mobility. In some cases, the pain makes it difficult for patients to continue with radiation or other cancer treatments.
OsteoCool is cooled radiofrequency (RF) ablation technology. With OsteoCool, one or two small incisions are made near the location of the tumor. Sizing tools create a pathway into the bone. Then RF ablation uses alternating, low-power current to generate heat, which a probe delivers to the tumor to intentionally dry out and kill cancerous cells.
RF power levels are generated specifically for the bone lesion size. RF energy heats the tissue while circulating water moderates the temperature close to the active probe tip.
Bone tumors can cause compression fractures in the spine, so patients may also have a vertebral-stabilizing procedure, called Kyphon™ Balloon Kyphoplasty. This procedure is done at the same time and with the same incision sites as OsteoCool. In this procedure, a neurosurgeon inserts an orthopaedic balloon to raise the collapsed vertebra and create a cavity. The cavity is filled with a special cement to support the surrounding bone and prevent further collapse.
Ask your cancer doctor if OsteoCool is right for you!
Osteocool™ is frequently used in treating tumors on the spine. To learn more about Freeman Neurosurgery services visit freemanhealth.com/neuro.
Patients can find resources and see how OsteoCool works at medtronic.com/learnaboutosteocool.
Radiation Oncology
Meet The Team
Dr. Chance Matthiesen completed medical school at the University of Oklahoma, Oklahoma City, Oklahoma. He completed an internship in internal medicine at the University of Oklahoma – Tulsa, Tulsa, Oklahoma, and a residency in radiation oncology at the University of Oklahoma Health Sciences Center, Oklahoma City, Oklahoma.  Professional memberships include American Society for Therapeutic Radiation and Oncology, American College of Radiology and Oklahoma Society of Clinical Oncology.
Ben Blair is the clinical director of Freeman Radiation Oncology. He started his career in healthcare as a radiation therapist. After graduating from Washburn University in Topeka, Kansas, Ben left the Midwest for a job at UCLA Medical Center in Los Angeles. While at UCLA, Ben was in charge of the stereotactic radiosurgery program and participated in all aspects of care throughout the radiation department. Ben joined the Freeman team in June of 2014 during its endeavor of starting a new radiation oncology program. Ben lives in Joplin, Missouri, with his wife and daughter. He enjoys reading, spending time with family and the outdoors.
Megan Catron received a bachelor's degree in nursing from Pittsburg State University in May 2012. After graduation, Megan became a registered nurse at Freeman where she worked in orthopeadics/neurosurgery for two years. She later became a charge nurse for six months before stepping into her current role as nurse patient navigator for radiation oncology. Megan lives in Joplin with her fiancé and daughter. She loves to fish and spend time outdoors.
Jeff Goodrich works as a staff medical physicist at Freeman Health System. He has been a radiation therapist since 1995 and is registered with the American Registry of Radiologic Technologists. He is also a member of the Medical Dosimetry Certification Board. In 2011, he earned a master of health physics from Illinois Institute of Technology.
Amanda Hagerman has been a radiation therapist since 2013. She earned an associate degree in radiography from Labette Community College and a certificate in radiation therapy from Washburn University in Topeka, Kansas. She lives in Frontenac, Kansas, with her fiancé and son. Amanda enjoys reading and shopping in her spare time.
Melissa Moore has been a radiation therapist since 1997. She obtained an associate degree in radiation therapy from Northwest Arkansas Community College and a bachelor's degree in healthcare management from Franklin University in Columbus, Ohio. She lives in Bentonville, Arkansas, with her husband and pets. She enjoys nature, reading and spending time with her grandchildren.
Kara Parker has been a radiation therapist since 2004. She studied radiography at Labette Community College and studied radiation therapy through Washburn University's online program. She has been at Freeman since the radiation oncology program began in July 2015. She lives in Columbus, Kansas, with her husband and two children. In her spare time, Kara likes to read, cook and spend time with family and friends.
Tabatha King obtained her registered nursing degree from Labette Community College in December 2012. Soon after, she began working for Freeman Health System on the orthopaedics/neurosurgery floor. She worked in home health for a brief time before moving into radiation oncology at Freeman. Tabatha lives in Webb City, Missouri, with her husband and daughter. She enjoys spending time at the lake with her family.
Denise Middick is the Radiation Oncology receptionist. She has been employed by Freeman for 13 years and has been greeting and serving the public all of her professional life. She prides herself in making the patients feel at ease while going through their treatments. Denise has been married for 39 years and has three children and seven grandchildren. Denise treats everyone – staff and patients alike – as if they were family.
Types of Cancer
Because breast cancer can present in many ways, and every woman's breasts are different, patients should look for anything new or changing in the breast. Common signs and symptoms are:
Mass or lump felt in the breast
Change in the color or texture of the skin on the breast
Dimpling anywhere on the breast
Changes in the nipple, for example, becoming inverted or developing a red scaly patches on the nipple or areola
Discharge from the nipple when not breast feeding
Early detection is the best protection
The gold standard for breast cancer screening is mammography. The American Cancer Society recommends women over age 40 have a mammogram every year. If you have a first-degree relative (mother, sister, daughter) with breast cancer, then you should start screening mammograms 10 years prior to the age she was diagnosed (but not before age 25).
Studies have shown that your risk for breast cancer is due to a combination of factors. Not all risk factors are created equal, and having a risk factor does not mean that you will get breast cancer. The main factors that influence your risk include being a woman and getting older. 
Sex. Women are far more likely to get breast cancer than men, although men can get breast cancer, as well.
Age. The risk for breast cancer increases with age; most breast cancers are diagnosed after age 50.
Early menstrual period. Women who start their periods before age 12 are exposed to hormones longer, raising the risk for breast cancer by a small amount.
Late or no pregnancy. Having the first pregnancy after age 30 and never having a full-term pregnancy can raise breast cancer risk.
Starting menopause after age 55. Like starting one's period early, being exposed to estrogen hormones for a longer time later in life also raises the risk of breast cancer.
Not being physically active. Women who are not physically active have a higher risk of getting breast cancer.
Being overweight after menopause. Older women who are overweight or obese have a higher risk of getting breast cancer.
Having dense breasts. Dense breasts have more connective tissue than fatty tissue, which can sometimes make it hard to see tumors on a mammogram. Women with dense breasts are more likely to get breast cancer.
Taking oral contraceptives (birth control pills). Certain forms of oral contraceptive pills have been found to raise breast cancer risk.
Personal history of breast cancer. Women who have had breast cancer are more likely to get breast cancer a second time.
Personal history of certain non-cancerous breast diseases. Some non-cancerous breast diseases such as atypical hyperplasia or lobular carcinoma in situ are associated with a higher risk of getting breast cancer.
Family history of breast cancer. A woman's risk for breast cancer is higher if she has a mother, sister or daughter (first-degree relative) or multiple family members on either her mother's or father's side of the family who have had breast cancer. Having a first-degree male relative with breast cancer also raises a woman's risk.
Previous treatment using radiation therapy. Women who had radiation therapy to the chest or breasts (like for treatment of Hodgkin's lymphoma) before age 30 have a higher risk of getting breast cancer later in life.
Drinking alcohol. Studies show that a woman's risk for breast cancer increases with the more alcohol she drinks.
If you have breast cancer risk factors or you have concerns about breast cancer, talk with your doctor about ways you can lower your risk and about screening for breast cancer.
Click here to learn more about breast cancer.
In 2013, more than 12,000 women were diagnosed with cervical cancer. According to the CDC, cervical cancer is the most preventable cancer that affects women. Early detection is key — regular screenings, called Pap tests, can detect changes in your cervical cells and increase the chance that cervical cancer will be found early and treated successfully. Most cervical cancer is caused by human papillomavirus (HPV), a sexually transmitted disease; HPV can be detected with an HPV screening.
Freeman physicians recommend the following:
Cervical cancer screenings for women starting at age 21, as directed by your physician
Regular HPV screenings for women starting at age 30
HPV vaccine for females ages 13 - 26
Often, cervical cancer does not produce symptoms until it has developed into a later stage. Symptoms of later-stage cervical cancer can include:
Changes in menstrual cycle
Abnormal vaginal bleeding
Unusual discharge
Pain during intercourse
Other diseases can cause these symptoms as well. If you are experiencing any of the above symptoms, please call your physician today to make an appointment. If you would like help finding a medical provider, please call the Freeman Physician Finder at 417.347.3767 or 800.297.3337.
Skin cancer is the most common type of cancer–each year, more than 3.5 million cases are diagnosed in the United States. Early detection is key to improving the chance of successful treatment. Know the ABCDEs of early detection. A physician should check areas on your skin that have:
Asymmetry: If you draw a line through a mole and the two halves do not match, you should consult a doctor.
Border: The borders of an early melanoma tend to be uneven. The edges may be scalloped or notched.
Color: Having a variety of colors is another warning sign. A number of different shades of brown, tan or black could appear. A melanoma may also become red, blue or some other color.
Diameter: Melanomas usually are larger in diameter than the size of a pencil eraser (1/4 inch or 6 mm), but sometimes may be smaller when first detected.
Evolving: Any change—in size, shape, color, elevation, or other trait, as well as any new bleeding, itching, or crusting—points to danger.
90% of nonmelanoma skin cancers are associated with exposure to ultraviolet (UV) radiation from the sun. The good news is you can help prevent skin cancer by protecting yourself from UV exposure. Try these tips from the CDC:
Stay in the shade, and avoid being in direct sunlight for long periods of time, especially during midday.
Protect your skin with clothing, including hats, long sleeved shirts, pants, or long skirts.
Use sunscreen with sun protective factor (SPF) 15 or higher, and both UVA and UVB protection.
Wear sunglasses that protect against UVA and UVB rays.
Avoid indoor tanning.
Remember and Honor Loved Ones
This unique water garden takes the shape of a large pink ribbon surrounded by beautiful landscaping and sitting areas. The Reflection Garden provides peace, tranquility and inspiration, as well as an escape to nature for cancer patients and their families.
Inside-Out Designs generously provided the labor to construct the Reflection Garden at no cost. This project is now finished, and opportunities to contribute are unfortunately no longer available.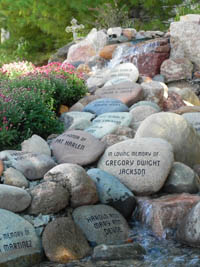 The walkway leading to Freeman Cornell-Beshore Cancer Institute is paved with names in remembrance of loved ones. Hundreds of individuals pass through our doors each week, walking amongst the brick pavers dedicated to family members and friends.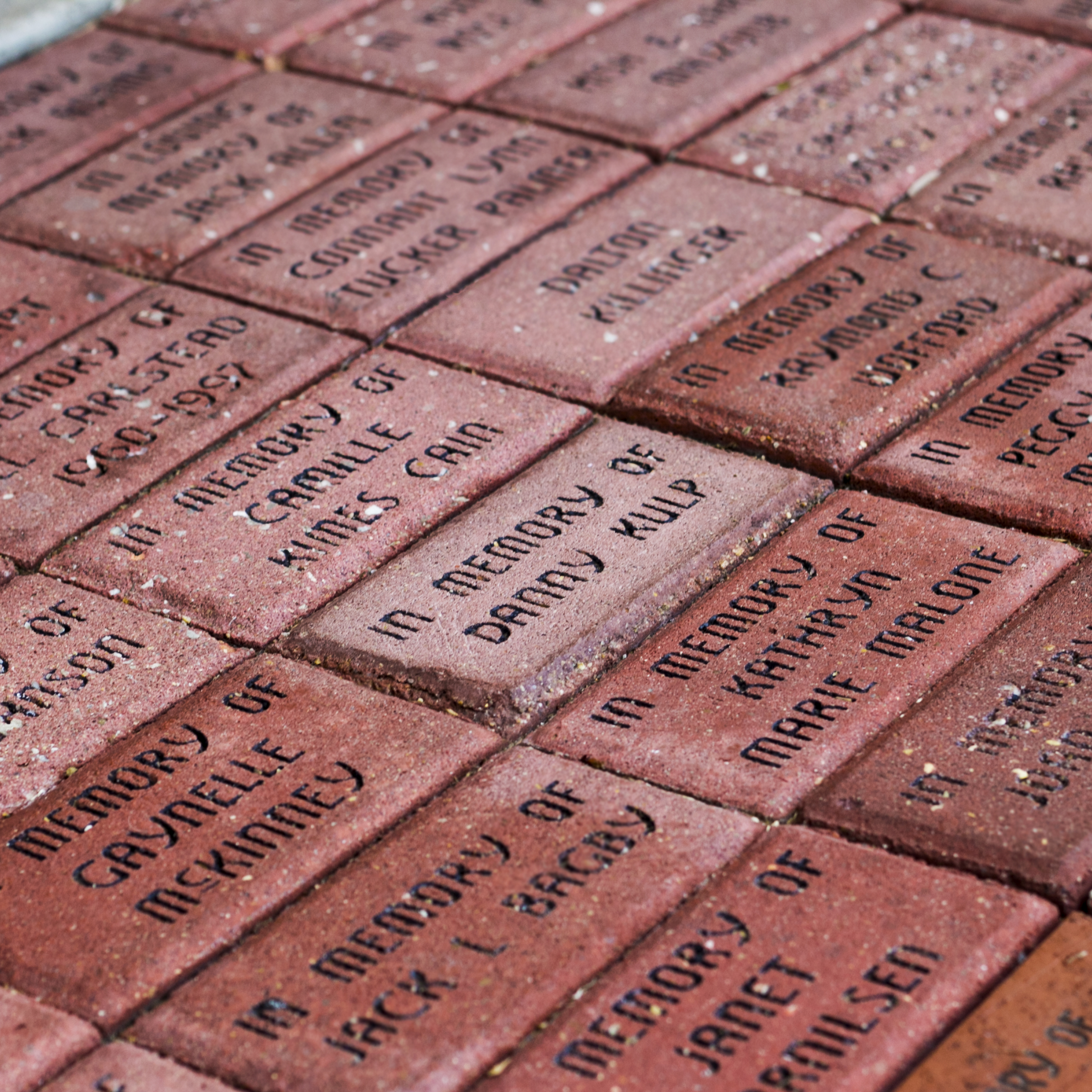 Our Star Wall in Freeman Cornell-Beshore Cancer Institute displays the dozens of tribute gifts in honor or memory of loved ones. This is a thoughtful way for you to celebrate the life of a "shining star" in yours.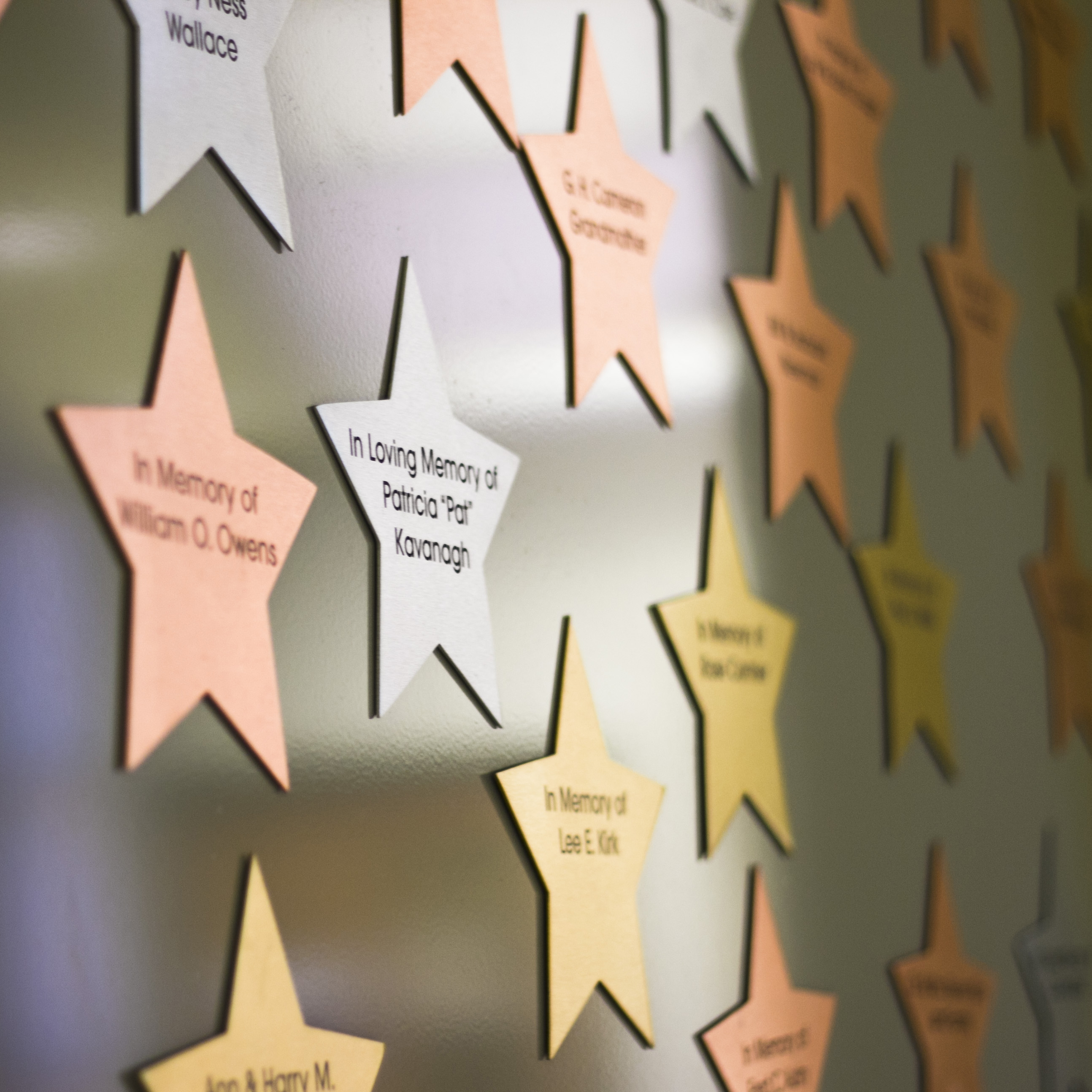 related news & blogs
Cancer Care