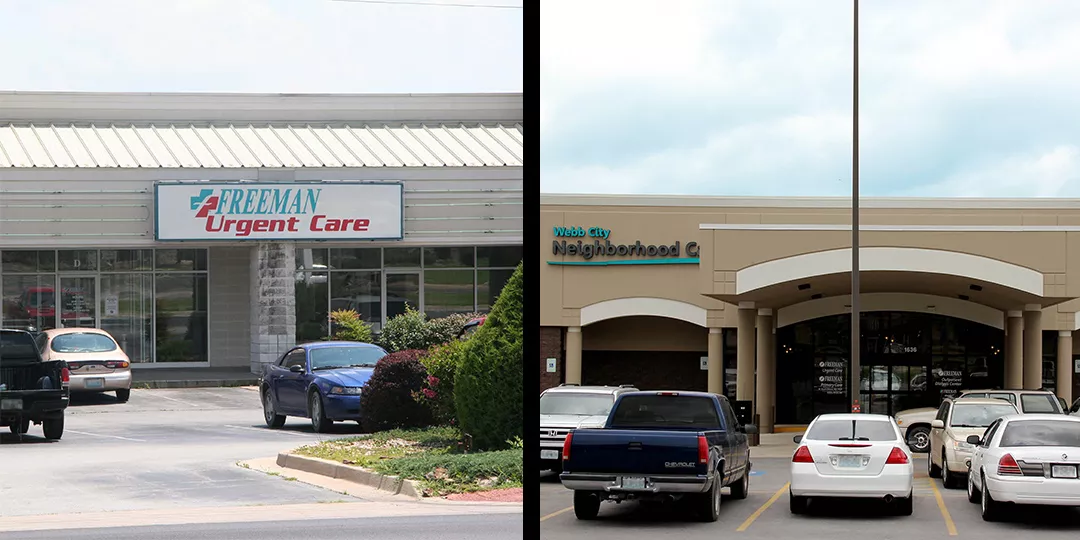 Urgent Care
Joplin, MO - 1130 East 32nd Street
Webb City, MO - 1636 South Madison Street
Walk in, no appointment necessary
When your illness or injury can't wait until you see your doctor, or if you don't have a doctor, Freeman Urgent Care offers a convenient, cost-effective alternative for minor medical care. A walk-in clinic staffed with highly trained personnel including board-certified physicians, registered nurses, and x-ray technicians, Freeman Urgent Care provides prompt medical treatment without an appointment.
We encourage patients to visit our Freeman Urgent Care walk-in clinic for the following types of care:
Cold
Flu
Insect bites and stings
Minor injuries
Mild or moderate aches and pains
Prescription requests
Sinus pain and congestion
Skin rash
Sore throat
Sprains and strains
Other minor medical concerns
Save My Spot
Freeman now offers you the convenience of scheduling your visit by using Save My Spot, an easy-to-use service that enables you to get in line by going online - and do your waiting from the comfort of home.
Urgent Care is NOT a FREE COVID testing site. For a list of free, local testing sites, including testing for travel or return-to-work, please click here.
Locations
1130 E. 32nd St.
Joplin, MO
417.347.2273
1636 S. Madison St.
Webb City, MO
417.347.2273
Hours: 
Monday – Friday 8:00 am – 8:00 pm
Saturday and Sunday 10:00 am – 6:00 pm