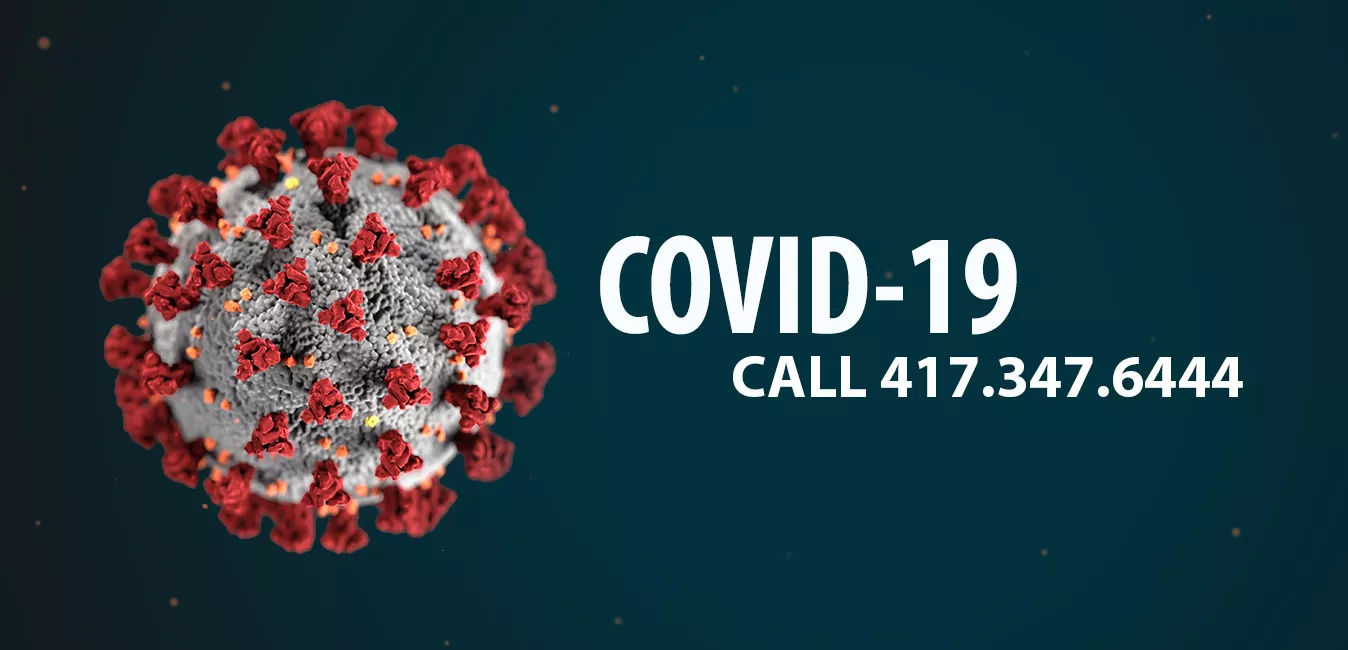 COVID-19 - COVID Test Center Phone Number - 417.347.6444
COVID Vaccine Information Phone Number - 417.502.SHOT
COVID vaccine registration
One Patient's Story: What Life Looks Like Without Her - Man Who Lost His Wife to COVID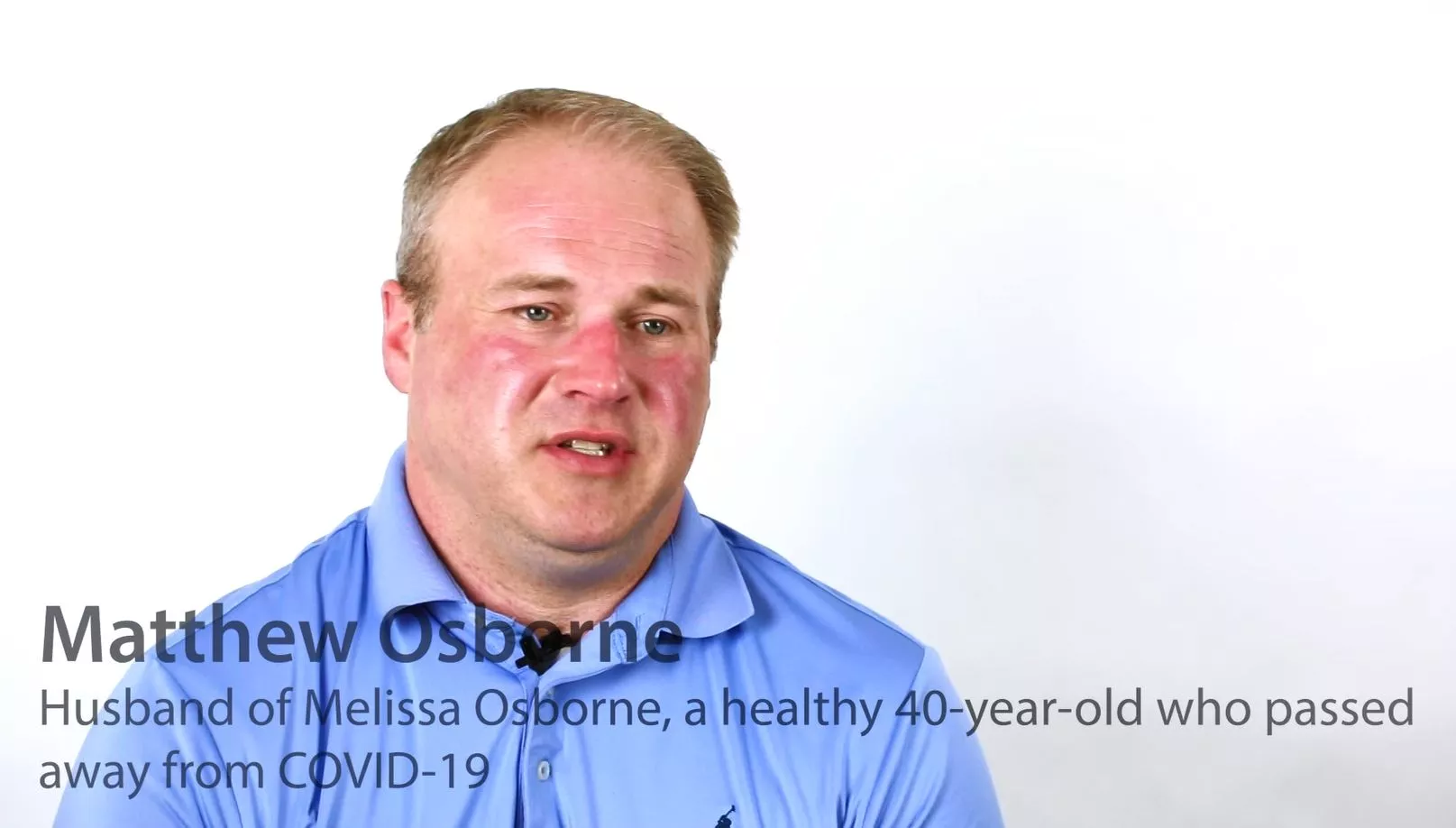 WHAT DO YOU NEED TO KNOW?
Anyone age 12 and up is now eligible for vaccination. The FDA approved Emergency Use Authorizations for the Pfizer, Moderna and Janssen (Johnson & Johnson) vaccines. Pfizer's vaccine is authorized for those age 12 and up. Vaccines from Moderna and Johnson & Johnson are authorized for those age 18 and up.
Effective August 13, 2021, the CDC authorized additional doses of mRNA vaccines for individuals who meet the criteria for moderately to severely immunocompromised. In line with federal guidelines, Missouri will use a self-attestation model for people who are moderately to severely immunocompromised. This guidance does not apply to the Janssen/Johnson & Johnson vaccine.
For those who received either Pfizer-BioNTech or Moderna's COVID-19 vaccine series, a third dose of the same mRNA vaccine should be used. A person should not receive more than three mRNA vaccine doses. Individuals should wait at least 28 days between their second and third doses.
The third dose of Pfizer-BioNTech or Moderna vaccines may be administered to moderately to severely immunocompromised people who meet the following criteria:
Receiving active cancer treatment for tumors or cancers of the blood
Received an organ transplant and are taking medicine to suppress the immune system
Received a stem cell transplant within the last 2 years or are taking medicine to suppress the immune system
Have moderate or severe primary immunodeficiency (such as DiGeorge syndrome, Wiskott-Aldrich syndrome, etc.)
Have advanced or untreated HIV infection
Receiving active treatment with high-dose corticosteroids or other drugs that may suppress your immune response
People who are immune compromised will be required to sign an attestation statement that they meet the criteria. People should talk to their healthcare provider about their medical condition, and whether getting an additional dose is appropriate for them.
Visitor Policy - Updated May 14, 2021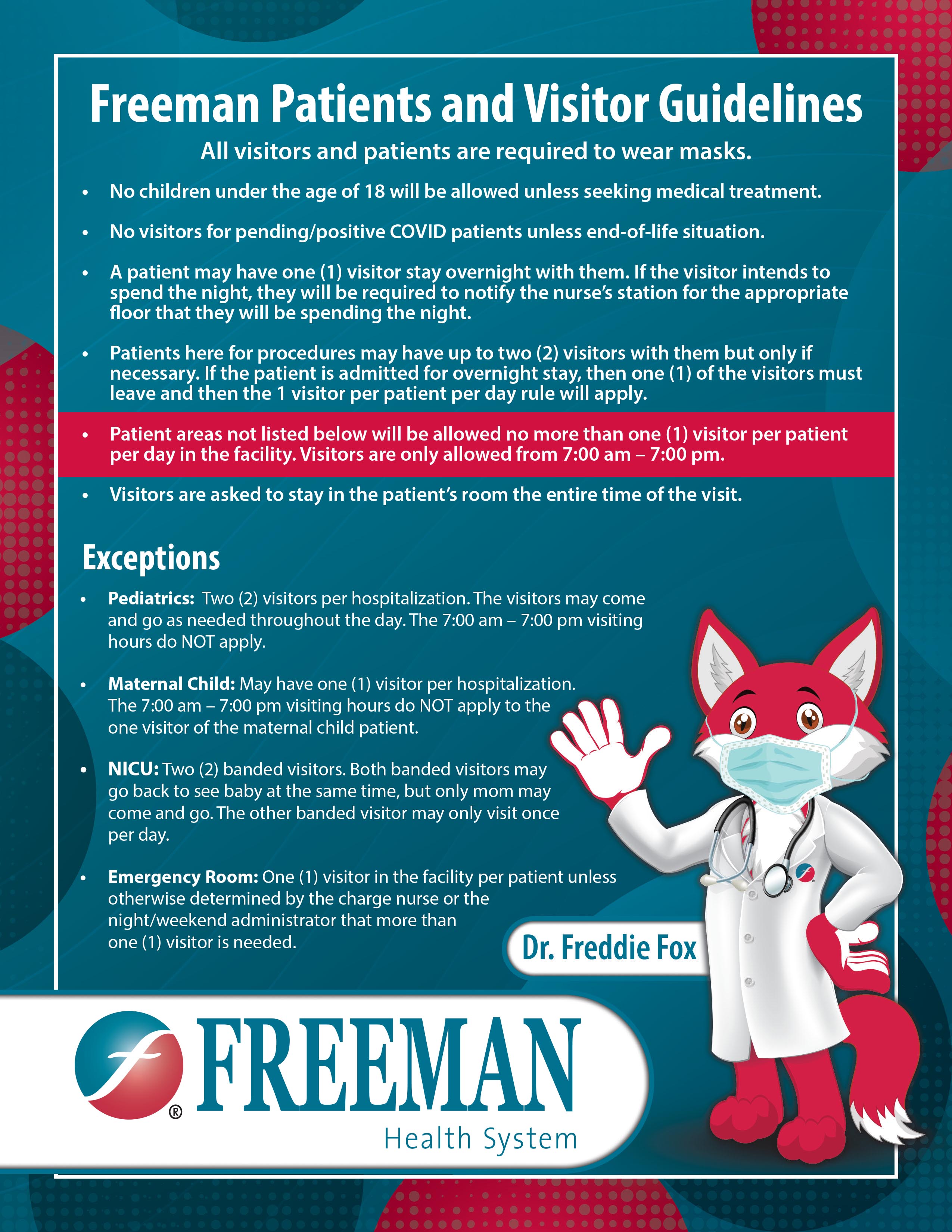 Visitors are asked to stay in the patient's room the entire time of the visit. Visitors can visit Freeman's retail service locations (cafeteria, coffee shop, gift shop) but will be required to wear a mask while in these locations.
What To Do If You Think You Have COVID-19
A drive-thru testing site is available in Joplin for COVID-19. Those who have symptoms of the illness may call the test center at 417.347.6444.
Test center screenings will determine if callers meet the criteria for testing. If the caller meets criteria, test center staff will make an appointment for the caller at the test site. Symptoms include a fever of 100.4 degrees or higher, a dry cough or shortness of breath. Tests will be provided to only those who are referred by the test center; a physician at the site will provide the test.
Test Center
The COVID-19 Test Center opened to the public Monday for area residents to call and see if their symptoms meet criteria for testing. Our hours are Monday - Thursday 8:00 am - 5:00 pm, and Friday 8:00 am - 12:00 pm.The demand for screening prompted the addition of two more phone lines just for screening questions for a total of five. Each call averages 10 to 15 minutes. Freeman Health System is working to get individuals definitive answers to their concerns about their symptoms. The majority of those who have novel coronavirus will recover at home treating symptoms with over the counter medications. You can contact the test center at 417.347.6444.
COVID-19 Symptom Assessment
Freeman offers a FREE online COVID-19 health risk assessment. You can also contact our test center at 417.347.6444 for further screening.
COVID Antibody Treatments
Freeman administers COVID antibody treatments to patients at high risk for severe COVID symptoms to help reduce their risk. We offer both Bamlanivimab and Casirivimab + Imdevimab under the Emergency User Authorization issued by the FDA.
High risk is defined as meeting at least one of the following criteria:
A body mass index (BMI) ≥35
Chronic kidney disease
Diabetes
Immunosuppressive disease
Currently receiving immunosuppressive treatment
≥65 years of age
≥55 years of age AND have cardiovascular disease, hypertension, chronic obstructive pulmonary disease or other chronic respiratory disease.
These therapies require a physicians order. If you feel you may benefit from these medications, contact your primary healthcare provider for more information. If you do not have one and would like one of our physicians to review your case, contact Freeman Academic Internal Medicine at 417.347.1095. Physician's offices may contact Freeman directly to order outpatient infusions.
Frequently Asked Questions
Vaccine cost
Vaccine doses purchased with U.S. taxpayer dollars will be given to the American people at no cost. 
Vaccine providers are allowed to charge an administration fee for giving the shot to someone. We expect public and private insurance providers to cover this cost. 
Can I make an appointment to get the COVID-19 vaccine?
We are accepting online registration for appointments. When we receive your information, we will contact you for scheduling. Please be patient. Our availability of vaccine is based on the amount of vaccine allocated to us. Distribution will be prioritized according to federal and state guidelines. As vaccine supplies increase and we are able to make more vaccine available to patients and the general public, we'll do so.
Who will get the COVID-19 vaccine first?
Missouri Department of Health and Senior Services provides guidance on prioritization of community groups.
How does the COVID-19 vaccine work?
While the first COVID-19 vaccines are new to people, they are based on science that is more than 30 years old. These vaccines provide our bodies with only part of the genetic code of COVID (not a full weakened or dead virus like some vaccines). From that code, our bodies produce proteins that are harmless on their own, but they allow our immune systems to produce antibodies in response. Those antibodies will then be able to recognize and attack COVID-19 if we're exposed and it's introduced into our body.
Who should get the COVID-19 vaccine?
Everyone should get vaccinated against COVID-19. The vaccine will be a major factor in reducing the public health threat posed by the pandemic and will ultimately save lives and reduce hospitalizations. We will follow CDC guidelines to distribute the vaccine in a fair, ethical and transparent way.
Are there side effects to the COVID-19 vaccine?
Any vaccine or medication can cause side effects. You may experience common side effects such as swelling and sore arm where you got the shot along with an overall low-grade fever, chills, tiredness or headache that goes away within a few days. These symptoms are normal and are a sign that the body is building immunity. Safety is the top priority of any vaccine. Early results from the first COVID-19 vaccines tested in people show they worked as intended with no serious side effects. Talk with your Freeman provider about any specific concerns you may have.
What are the long-term effects of the COVID-19 vaccine?
We won't know how long immunity lasts until we have more data on how well it works over a longer period of time. The protection someone gains from having an infection (called natural immunity) varies depending on the disease, and it varies from person to person. Since this virus is new, we don't know how long natural immunity might last.
Should I get the COVID-19 vaccine if I'm pregnant?
Pregnant women were not part of clinical trials, but experts cited real-world examples to explain their confidence in vaccine safety. In accordance with the FDA and CDC guidance, healthcare workers who are pregnant or breastfeeding may receive the vaccine at their own discretion. Talk with your Freeman provider about any specific concerns you may have.  
How will the COVID-19 vaccine be given?
The COVID-19 vaccination is administered as a shot in the arm. Some types of the vaccine need two shots within a certain time period to be effective. Current guidance recommends 21-28 days between vaccinations.
What if you have another condition – can you get the COVID-19 vaccine?
Those with certain underlying medical conditions are at high risk for developing severe COVID-19 illness and, regardless of age, are a high priority group for receiving the vaccine. Freeman providers will work to get you the best information so you can make an informed decision about the vaccine for yourself and your family.
Do I need the COVID-19 vaccine if I have the flu vaccine?
Yes, the seasonal flu vaccine is unable to provide immunity against the COVID-19 virus.
Should we wait to see if it's effective before getting the COVID-19 vaccine?
These vaccines have been proven effective and are approved for use with Emergency Use Authorization (EUA) from the FDA. When the FDA grants EUA, it's in the absence of adequate, approved, or available alternatives to prevent serious or life-threatening diseases, including public health emergencies like the COVID-19 pandemic.
Can I stop wearing a mask and social distancing after I've been fully vaccinated against COVID-19?
The CDC still recommends wearing a mask, proper handwashing and social distancing after vaccination. The annual flu vaccination is still recommended. This guidance may change with more data about how effective the vaccine is over the long-term.
State Vaccination Plans
freeman frontliners receive the covid vaccine