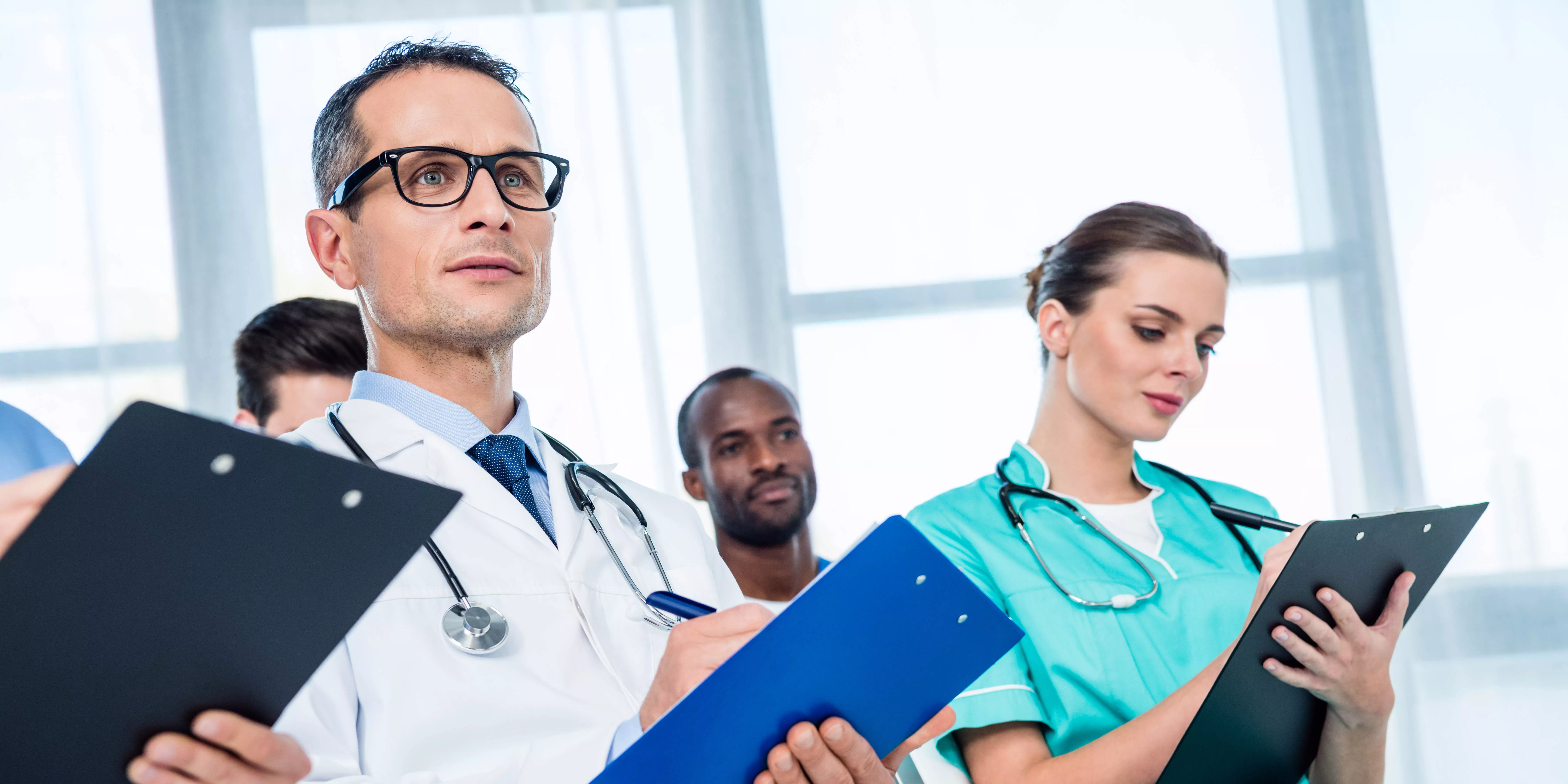 Professional Development
417.347.5830
Freeman Health System Professional Development Overview
Freeman Professional Development offers a wide variety of continuing education programs for our staff, healthcare professionals and the community. We have been an American Heart Association (AHA) Training Center since 2004. Many of our life support courses are available to the community, whether you're a lay person or an experienced healthcare professional.
Training areas include basic life support skills such as CPR and first aid, as well as initial and renewal courses for advanced cardiovascular life support (ACLS) and pediatric advanced life support (PALS). Our specialty courses designed for healthcare professionals range from basic certifications to advanced licenses in AWHONN, STABLE, NRP, ASLS and TNCC.
Professional Development
Freeman Clinical Courses
We offer a variety of life support programs from the American Heart Association (AHA) and the American Academy of Pediatrics and Emergency Nurses Association.
Which course is right for you?
Call our Enrollment and Records Specialist today at 417.347.5845 to learn about upcoming courses and enrollment requirements. Courses offered include:
Professional Development
Freeman Job Shadowing
The Freeman job shadowing program enables students and community members to explore healthcare careers by shadowing caregivers. Through the program, members of our medical team share experience, advice and knowledge with participants. Students are encouraged to use their firsthand experiences at Freeman help make decisions about class choices, continuing education and their career. 
Participating departments include:
Anesthesiology
Cancer (Oncology)
Cardiology
Cardiovascular Operating Room
Cath Lab
Emergency Department
General Medical

Infusion Center
Laboratory
Occupational Therapy
Operating Room/Scrub Technicians
Orthopedics
Pharmacy
Physical Therapy

Physical Therapy
Physician Assistants
QuickMeds Pharmacy™
Radiology
Respiratory Therapy
Social Services
Contact Our Job Shadowing Team
Professional Development Department
932 E. 34th St.
Joplin, MO 64804
Phone: 417.347.5830
Fax: 417.347.0016
Email: professionaldevelopment@freemanhealth.com
Additional Job Shadowing Resources
Job Shadow Guidelines
Participants must be 16 or older. Some departments may require the participant to be 18 or older.
We make every effort to arrange shadow opportunities in the student's area(s) of interest.
Job shadowing hours will be limited to two days or up to 16 hours in a calendar year (January 1 – December 31). Exceptions may be made based on the requirement of a degree or program. Supporting documentation will be required to shadow more than 16 hours.
Job shadowing takes place during regular business hours, Monday through Friday, 7:30 am – 4:30 pm.
Completion of registration form, confidentiality and non-disclosure agreement form, observational experience agreement form, observational expectations and regulations form, and HIPAA 101 patient privacy training are required for each shadow experience.
Applications for those under the age of 18 require a parent/legal guardian's signature on each of the forms.
A copy of your valid photo ID and proof of completed COVID-19 vaccination must be provided with the job shadow application
Registration
Applications must be completed entirely, prior to submission.
Applications must be submitted to the Professional Development Department to be considered for the job shadowing program.
Please be aware that your job shadow experience will not be scheduled until all forms are completed and submitted.
Please allow a minimum of two weeks between the date the completed application is returned to the

Professional Development Department

and your desired shadowing date.
Participants will be scheduled to complete additional paperwork and review HIPAA patient privacy training prior to the job shadow experience. 
Professional Development
Freeman Health Academy
Interested in a career in healthcare?
Freeman Health Academy is a program that provides local students the opportunity to have an introduction into the healthcare profession. To better serve our local students seeking out careers in healthcare, Freeman Health Academy will be scheduled during the summer.

Freeman Health Academy is for anyone, age 16 and up, who meets the application requirements and who is interested in a healthcare career.

In conjunction with classes, students will have the opportunity to job shadow in various units throughout the facility. Job shadowing is a chance for applicants to work alongside unit staff and see the everyday operation of various departments within the facility.

Hands-on labs will be offered for participants, as well. These labs will take place at Freeman Health System. Topics for labs may include but are not limited to: dissections, CPR, blood draws, starting IVs, vital signs and assessment techniques.
 
Seats are limited. Apply today!
Questions? Contact Us!
Professional Development Department
932 E. 34th St.
Joplin, MO 64804
Phone: 417.347.2554
Fax: 417.347.9316
Email: professionaldevelopment@freemanhealth.com
Contact Information
Professional Development Department
932 E 34th Street
Joplin, MO 64804
Office: 417.347.5830
Fax: 417.347.2520