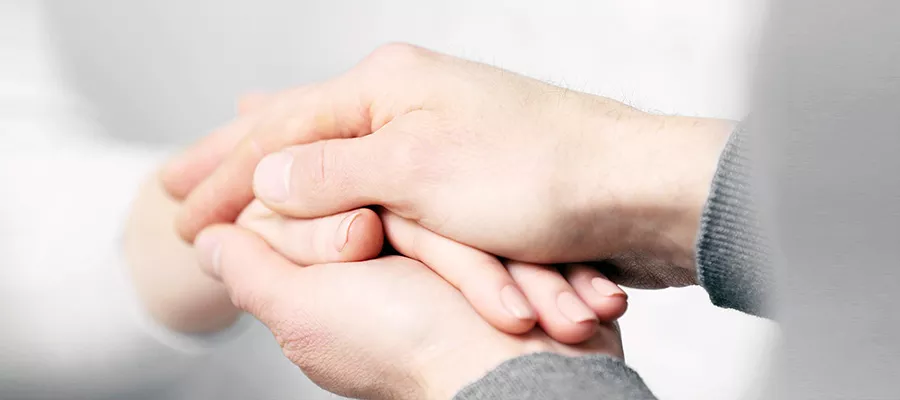 Crisis Services
Call 417.347.7720 or 800.247.0661 to speak to a mental health professional now.
Ozark Center Crisis Intervention Services offers 24/7 support to people of all ages and backgrounds who are experiencing a personal, emotional or mental health crisis. Individuals can receive private, caring assessments and evaluations through:
Brief phone consultation or counseling
Messaging service
Face-to-face intervention
Call 417.347.7720 or 800.247.0661 to speak to a mental health professional now. Translation and TTY/TDD services are available. For messaging service, text REGISTER to 720-7-TXTOZK (720.789.8695).
Ozark Center Crisis Services include:
24-hour help line, brief phone counseling, education, information and referrals
24-hour messaging service available via text message or web interface
Face-to-face mobile response team assessment and evaluation
When you call our crisis services help line, you will always speak with a trained, compassionate and nonjudgmental mental health professional. Our crisis counselors strive to help you gain immediate emotional relief, discover new life skills and develop solutions.
When should you call the crisis line?
A friend or family member talks about death, dying or suicide
You experience:

Suicidal thoughts
Self-destructive behavior
Family or relationship problems
Child and adolescent parenting problems
Chemical dependency or substance use issues
Domestic situations involving violence or threats of violence to others
Shelter or housing needs
Acute psychiatric crises, including severe, prolonged depression, anxiety or panic attacks; psychosis; hallucinations; paranoia; mania; sleeplessness; mood swings; rage or eating disorders

For short-term counseling needs
For information about prevention, resources or referrals for behavioral health services in our area
Community Crisis Training Opportunities
Ozark Center Crisis Services offers many suicide prevention training opportunities throughout the year. Please call 417.347.7600 for more information.
Mental Health First Aid 
Mental Health First Aid USA (MHFA USA) course is designed to increase mental health literacy, decrease stigmatizing attitudes in our communities, and encourage people to seek assistance for any potential mental health problem. Certified MHFA USA Instructors teach the 12-hour course and instruct nonclinically trained individuals who don't specialize in mental health how to give first aid to individuals experiencing a mental health crisis situation or who are in the early stages of a mental health disorder.
Participants learn the signs and symptoms of the most common mental health problems, where and when to get help, and what type of help is effective.  The fee for the class is $30 and includes a training manual.
Question, Persuade, Refer - Gatekeepers for Suicide Prevention 
Question, Persuade and Refer (QPR) are simple steps that anyone can learn to help save a life from suicide. Just as people trained in CPR and the Heimlich maneuver help save thousands of lives each year, people trained in QPR learn how to recognize the warning signs of a suicide crisis and how to question, persuade and refer someone to help.
In this 1-hour course, individuals learn to recognizethe warning signs of suicide and how to apply steps that can save lives. Each participant receives a QPR booklet and card with information on suicide prevention, in addition to resource information for treatment providers and support groups within their community.
Question, Persuade, Refer, Treat for Professionals 
Question, Persuade, Refer, Treat (QPRT) is an 8-hour course that introduces professionals to suicide risk assessment from a medical, psychological and legal perspective. QPRT is the standard suicide risk assessment and safety plan integrated into medical treatment and referral plans. Students will enjoy increased competence and confidence in the assessment and management of those at risk for suicide.  
Additionally, students will learn:
Suicide risk assessment documentation
Clinical decision making
Skills to conduct a suicide risk assessment
Standardized suicide risk assessment production
Counseling on reducing the Access to Lethal Means 
Suicide is the 10th most common cause of death for those of all ages, and the 3rd leading cause of death for young people ages 15-24 in Missouri. Preventing these suicides is a very complex puzzle that requires all of us to work collaboratively to complete the picture. One piece of that puzzle that has proven effective is reducing access to lethal means–particularly firearms and medications.
Access Crisis Intervention
Anyone is welcome to call the Ozark Center Crisis line, but if you live outside our service area and would prefer someone local, other agencies throughout Missouri provide similar services. You can see their names and crisis line phone numbers here.