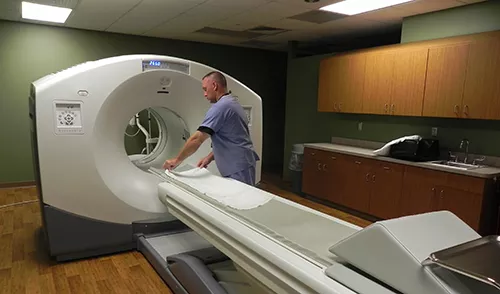 A Picture of Your Health
Freeman Radiology, accredited by the American College of Radiology in computed tomography (CT), ultrasound, magnetic resonance imaging (MRI) and nuclear medicine, offers a full range of diagnostic and interventional services in a caring environment. Our team of radiologists, radiologic technologists and support staff are dedicated to providing you with the highest quality of medical care and convenience.
Our full range of services includes state-of-the-art computed radiography, CT, PET/CT, MRI, ultrasound, digital mammography and diagnostic angiography. Our 64-slice CT scanner provides faster images of arteries and veins for cardiovascular disease diagnosis.
PET/CT scan
We're pleased to offer the only in-hospital stationary positron emission tomography/computed tomography (PET/CT) scanner in our area. This revolutionary equipment provides our physicians with highly detailed images of the body to assist in the diagnosis of cancer, cardiac, and neurological disorders. Conveniently located at Freeman Hospital East, the unit features a private treatment room and an enclosed suite. We combine this cutting-edge technology with the expert care provided by our team of board-certified radiologists and registered technologists to give you superior diagnostic care.
Cardiac imaging 
According to the American Heart Association, nearly 1 million people die of cardiovascular disease each year – that's one person every 33 seconds. Imaging technology, called SmartScore™, can help patients discover their risk for heart disease and heart attack. The scan allows physicians to evaluate the health of patients and determine their risk for heart attack by looking for calcium deposits in the arteries that may restrict blood flow to the heart.
SmartScore is recommended for people with two or more of the following characteristics:
A family history of coronary artery disease
Male over 45 or female over 55
Past or present smoker
A history of high blood cholesterol, diabetes, or high blood pressure
Overweight
Inactive lifestyle
SmartScore is not appropriate for those with known coronary disease or active symptoms.
If you're interested in SmartScore, please consult your physician.
Freeman Radiology