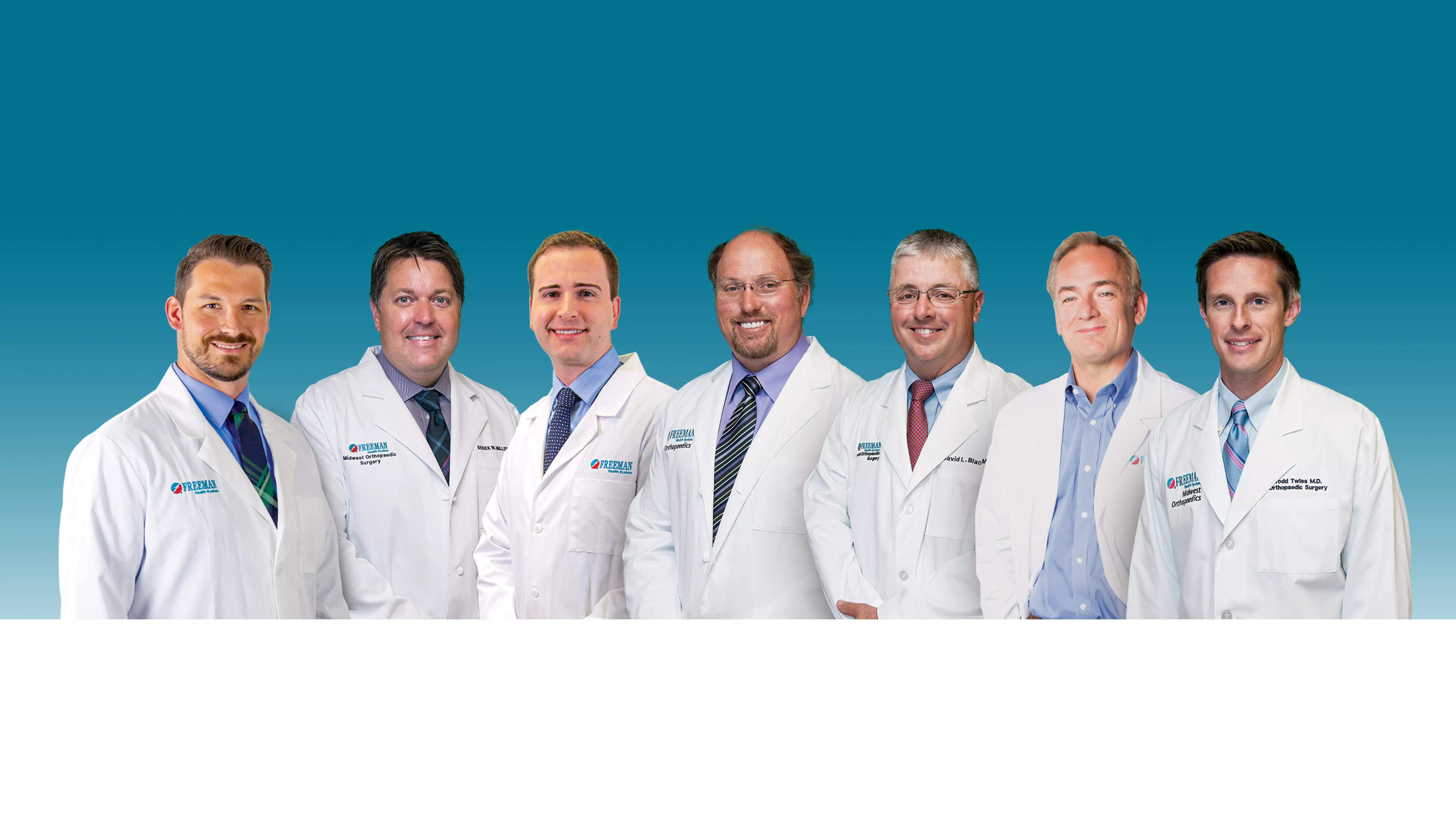 Keeping you in the game
Freeman Orthopaedics & Sports Medicine combines forces with Freeman athletic trainers to provide world-class care to recreational, high school, collegiate and professional athletes. Our team provides athletic injury assessment, treatment, rehabilitation, and follow-up evaluations tailored to your needs. From diagnosis to treatment, through rehabilitation and recovery, our team gets you back in the game. Actively involved in the community, our athletic trainers perform on-site injury assessment and treatment during athletic events. Because injuries don't always occur during regular business hours, we have a certified athletic trainer on-call every weekend.
Throughout the year, Freeman Rehabilitation and Sports Center provides free annual preparticipation physical exams to an estimated 2,000 middle school, high school and college athletes from 26 area schools. We also make school visits to assist doctors, coaches and school nurses in caring for injured athletes.
Our multidisciplinary team includes:
Certified athletic trainers
Licensed physical therapists
Fellowship-trained sports medicine specialists
Consulting orthopaedic physicians
We believe that prevention is the best medicine, so in addition to injury care, we provide educational programs and seminars for coaches, athletic trainers, parent groups and community organizations on topics such as:
Recognition and treatment of athletic injuries
Sports nutrition
Development of flexibility and conditioning programs.
Aquatic Therapy
Aquatic therapy is physical therapy performed in water under the direction of a licensed physical therapist. Through aquatic therapy, you can increase your strength, range of motion, and flexibility. The warmth of the water soothes aches and encourages muscle relaxation, while the buoyancy of water reduces body mass and increases support.
Our HydroWorx® aquatic therapy pool, unique to our region, features a treadmill and underwater camera to allow specially-trained therapists to monitor patients during therapy. The floor rises and lowers to meet patients' needs, making it more accessible for all patients to enter, exercise and exit the pool.
Patients with a variety of conditions may benefit from aquatic therapy:
Back injuries and postoperative rehabilitation
Fibromyalgia/chronic pain
Muscular dystrophy
Arthritis
Parkinson's disease
Lower extremity injuries
Total joint replacement rehabilitation
Athletic injury rehabilitation
Stroke and neurological conditions
Getting started
Please note that aquatic therapy isn't appropriate for every patient—your physician can determine whether this type of treatment is best for you. Consult your physician if you're interested in receiving aquatic therapy.
Lymphedema Therapy
Lymphedema, a condition in which fluid collects in tissue, can cause swelling in various parts of the body, usually the arms and legs. While no cure exists, Freeman Lymphedema Clinic can help you control the symptoms through treatment and education. We're committed to providing the highest level of care and we work closely with your physician to best meet your treatment needs. Our experienced clinicians have achieved certification in the Vodder Technique of Manual Lymphatic Drainage (MLD).
A physician referral is required for treatment, and treatment should begin as soon as possible.
Lymphedema symptoms:
Swelling of hands, feet, limbs, or other body parts
Skin dryness and thickness
Heaviness, aching, and tightness
Lymph fluid leakage
Limited movement
Repeated infections 
Joint pain
Difficulty fitting into clothes
Treatment may include:
Skin care to heal wounds and eliminate bacteria
Manual lymphatic drainage to empty and decompress obstructed lymph vessels
Compression bandages to prevent the affected limb from refilling
Remedial exercises to facilitate drainage of fluid
Recommendations to prevent further swelling
Lymphedema supplies
As a convenience, we partner with Freeman Health Essentials and Pink Door Boutique in prescribing health-related garments and other products to support your treatment.
Support Group
Our lymphedema support group meets quarterly and features educational programs, speakers and tips for care at home. A newsletter detailing upcoming events and up-to-date helpful information about lymphedema can be mailed to you upon request.
Training Classes
When it comes to running, many people focus on running to train, rather than training to run. Train 2 Run (T2R), a Freeman Rehabilitation & Sports Center program, is a functional strength-training program that aims to teach runners smarter and more efficient ways to prepare for running. The Train 2 Run program teaches you how to stay healthy and injury-free, so you can run longer and with greater success. Train 2 Run is also a great program for active adults who are looking for safe ways to stay in shape. 
Goals:
Reduce injury risk and improve resilience to overuse-related running injuries
Improve running performance
Promote a stronger, healthier community of local runners
FALL 2023 CLASSES WILL RUN FOR 10 CONSECUTIVE WEEKS STARTING THE WEEK OF OCTOBER 2 AND ENDING THE WEEK OF DECEMBER 4.
Class description:
T2R Foundations (All levels) – MONDAY 5:45 pm – This circuit-style strength class is designed for both beginner and veteran runners as well as active adults. This class focuses on strength training using high-intensity interval training (HIIT) workouts. The workouts are fast paced and will get your heart rate up. The main goal of the class is to offer an alternative form of aerobic training that mimics the same cardiovascular training effect experienced with running while also getting the body stronger and more resilient to injury. It is recommended that all participants for this class have the ability to perform cardio exercise for at least 30 minutes without stopping.
ACTIVITY RELEASE OF LIABILITY: 
By completing this class registration, I hereby waive, release and forever discharge all claims, rights and causes of action of any kind or nature for myself, my heirs, executors and administrators against Freeman Health System, their agents, servants, officers, employees, directors, representatives and assigns for injury or illness which may directly or indirectly result from my participation in the Freeman Train 2 Run classes, even if such injury or illness results from the negligence of Freeman Health System. I further agree to hold said parties harmless and agree to indemnify each of said persons against all liability for any loss, cost, injury or damage to persons or property which may arise by virtue of the undersigned engaging in Train 2 Run classes. I further state that I am in proper physical condition to participate in this program.
Who can I contact with questions?
Email Kendra Cochran at krcochran@freemanhealth.com or call Freeman Rehabilitation and Sports Center at 417.347.3737 during regular business hours.
Printable Registration Form Here
Freeman Rehabilitation & Sports Center offers a variety of summer strength and conditioning programs for area high school and junior high student athletes.
All programs include:
Warm-ups: introduction in the use of dynamic warm-ups–this innovative exercise pairs flexibility and mobility with coordination and balance
Agility: ladders, hurdles, cones, and reaction balls can help with hand-eye coordination and timing
Core: suspension training, physioball, body weight, and medicine balls
Lower extremity strength: kettle bells, suspension training, and body weight exercises
Lower extremity plyometrics: the body's ability to land safely is more important than the vertical distance of the jump. Our athletic trainers can help make needed adjustments for a safe jump.
Testing: to show measurable results and goals from the program, we conduct pre-testing and post-testing, including Functional Movement Screen® and Y Balance Test™
High school and junior high school programs
Providing area athletes with strength and conditioning exercises for each skill level to improve agility, vertical jump, balance, core strength and overall athletic performance. Working with school's summer training programs already in place, we hope to increase each athlete's potential while decreasing risk of injury. Freeman certified athletic trainers will instruct and lead sessions, as well as perform testing to show measurable results from the program.
For more information about the Train 2 Perform program, contact James Bolin, Freeman Sports Medicine Athletic Trainer, 417.347.3737.
Golf Fitness2Perform is a golf-specific program led by Freeman physical therapists Frank Eitemiller and Tyge Sanborn. Both are Titleist Performance Institute (TPI) certified professionals.
Several programs are available for golfers at every level of interest and ability. Each program provides physical assessment of flexibility, strength, balance and stability, video swing analysis, and specific exercise programs to address opportunities for improvement.
Eagle program
One-on-one program with a TPI certified golf fitness professional
Results provided to participant's golf pro, if requested
Evaluation session includes golf-specific physical screen and
2-D video swing analysis with DVD copy
Five workout sessions (45-60 minutes each session)
Re-evaluation of physical screen and video swing analysis
Birdie program
18-session web-based program that can be performed at home, gym, etc.
Results provided to participant's golf pro, if requested
Evaluation session includes golf-specific physical screen and 2-D video swing analysis with DVD copy
Establish custom workout program to address specific opportunities to improve—based on the physical screen
Par program
Evaluation session includes golf-specific physical screen and 2-D video swing analysis with DVD copy
Establish custom workout program to address specific opportunities to improve—based on the physical screen
Group program
3-5:1 ratio of clients to TPI instructor
Individual evaluation session includes golf-specific physical screen and 2-D video swing analysis with DVD copy
Establish custom workout program to address specific opportunities to improve—based on the physical screen
Five group workout sessions with focus on each individual's specific opportunities to improve (45-60 minutes)
Re-evaluation of physical screen and video swing analysis
For additional information, call 417.347.3737 or 417.359.0625.