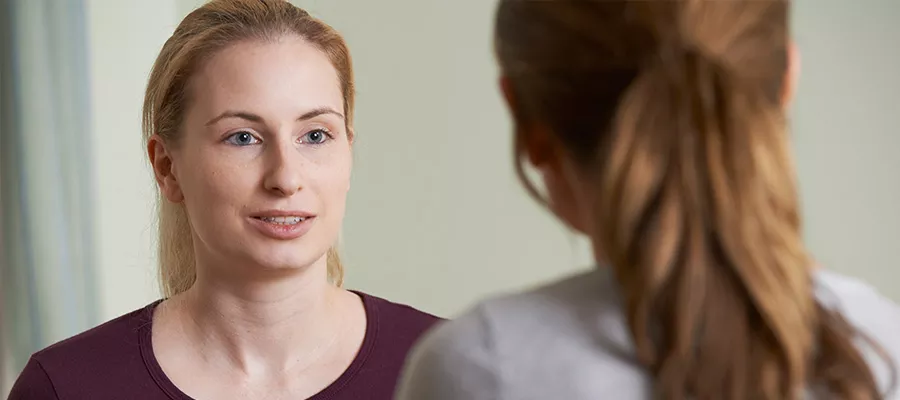 Counseling Services
417.347.7600
The highly-trained staff of psychologists and counselors at Ozark Center offers you personalized care to help you deal with mental and behavioral health problems. Through counseling, we can help you address emotional, social and situational issues in your life.
We provide a variety of psychological and counseling services, including:
Psychological and mental health evaluations

Individual counseling 

Therapy for children 

Group therapy 

Couples' counseling 

Family therapy
Couples Counseling
Research shows couples' counseling results in improved relationships. The reduction in stress that often accompanies the resolution of conflict can reduce the risk of several medical health conditions, including heart disease, high blood pressure, and headaches. In addition, conflict resolution can help improve the quality of life and long-term emotional health of both partners. Every relationship is different – our counselors base treatment on the unique strengths and needs identified during the first session with the couple.
Common issues addressed during couples' counseling include:
Communication difficulties

Past or current trauma in relationships

Financial distress

Parenting disagreements

Substance-related relationship stress

Marital or premarital counseling
Group Therapy
Group therapy provides patients with the opportunity to explore feelings, learn, and practice new skills in a safe environment. The professional leading the group uses the group's strengths to address the specific issues each member is facing. He or she can work individually with members during group meetings to provide customized experiences for each person. Group members can choose how much to involve themselves in group discussions, which can produce lessanxiety than a one-on-one therapy environmentfor some people.
Group counseling is often a great accompaniment to individual or family therapy—it can be easier to fit into a schedule and is more socially oriented. This type of therapy provides the individual with information about what is working in the lives of others experiencing similar issues and allows the patient to provide support to other group members, resulting in enhanced self-esteem.
Individual Counseling
Oftentimes, people seek counseling because they are experiencing feelings or behaviors that keep them from enjoying everyday activities. Our highly-trained mental health professionals listen to your concerns, and help you resolve these issues effectively in a confidential, nonjudgmental manner. We can help you understand your feelings, gain perspective and find solutions to problems.
Issues addressed in therapy include:
Stress

Family crisis

Psychological issues, such as depression, anxiety, or anger

Eating disorders

Substance abuse

Grief

Relationship struggles

Conflict management
Ready to get started? Call 417.347.7600 to make an appointment.