Blog Post
Certified Mastectomy Fitter Provides Comfort, Care and Confidence After Breast Surgery
October 03, 2022
Blog Post
Certified Mastectomy Fitter Provides Comfort, Care and Confidence After Breast Surgery
October 03, 2022
After breast surgery, women often experience significant discomfort and may not feel their best or most feminine, or they might struggle with their recovery.
That's when Lisa Nelson, CFm, certified mastectomy fitter at Pink Door Boutique®, comes alongside ladies to help them feel more like their former selves. Nelson is a healthcare professional educated in providing breast prosthetics and post-mastectomy/lumpectomy services, including fittings and adjusting or modifying garments and prosthetics. For over 14 years, Nelson has served breast cancer survivors of the four-state region and helped women redefine their style after breast cancer treatment.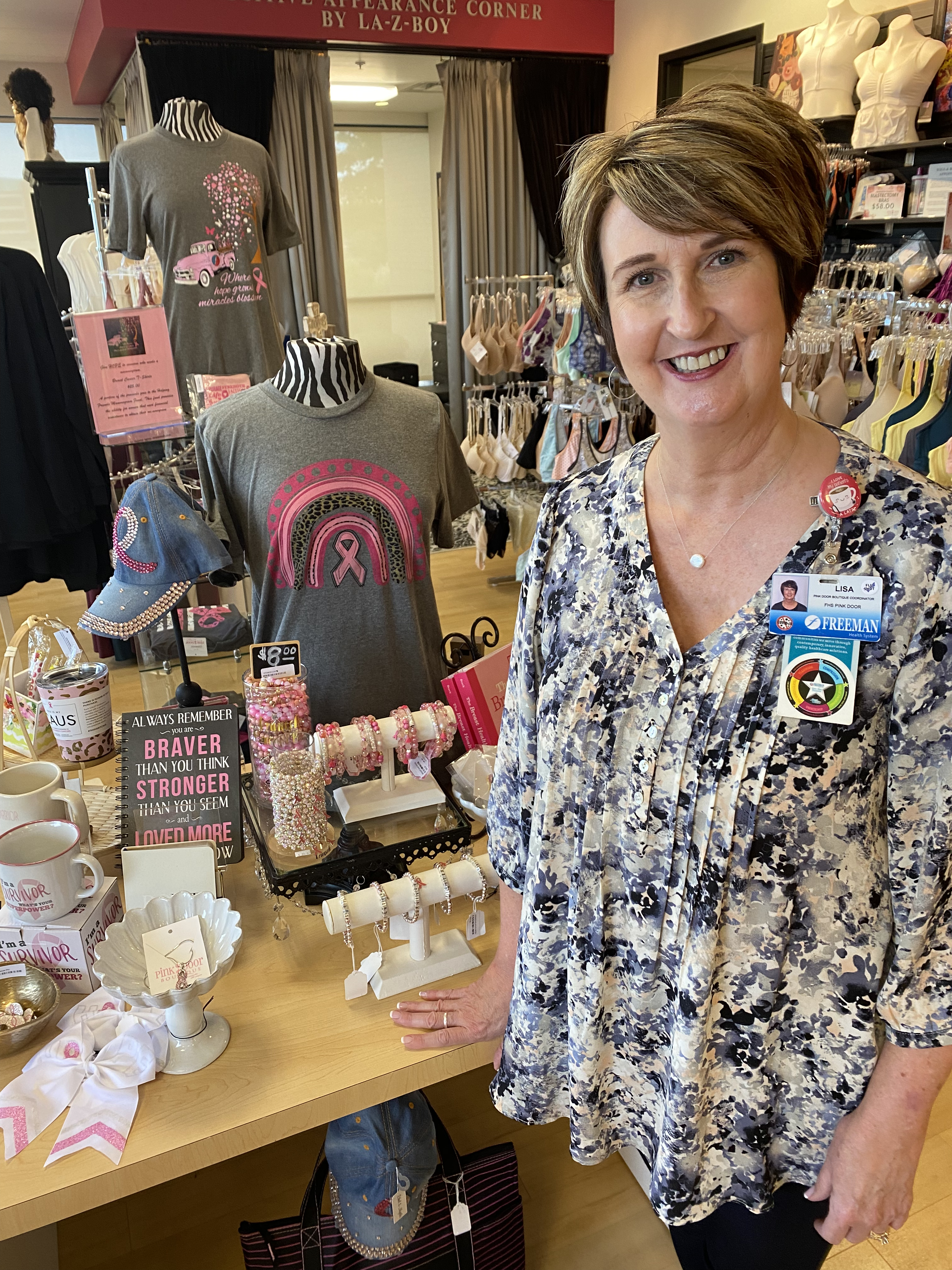 "My CFm certification lets patients know I'm experienced and qualified to meet their needs," explained Nelson. "To maintain my CFm, I must complete a certain amount of continuing education each year. The training and education I receive allows me to
stay up to date with new advances in the field, as well as talk to other fitters. Not only am I familiar with an array of different
products, but I also have the expertise to narrow those options down to what will work best for each individual patient."
It's essential to feel comfortable when shopping for post-mastectomy/lumpectomy apparel, and building a relationship with a certified mastectomy fitter can help patients feel relaxed and more confident. The emotional trauma associated with fighting cancer, as well as losing a breast, can be burdensome, and Nelson genuinely cares about each patient. Many times, the mastectomy process moves so quickly, women don't always have a chance to process what's going on, and by the time they
find themselves in a breast form store, they're shaken and unnerved. 
"I listen to every customer, offering them a chance to express their concerns and wishes," Nelson explained. "Whether looking to buy a post-surgical bra or being fit for a custom breast prosthesis, having a close and relaxed relationship with my customers is a huge benefit to recovery. It enables ladies to personalize their selections and make sure everything is the perfect fit. Post-mastectomy recovery is a very sensitive time, both physically and psychologically. Building a caring relationship with trust and emotional support makes a positive difference!" 
Initially, a patient's doctor will give the go-ahead to get fitted for a mastectomy bra and prosthesis. Then, Nelson schedules a fitting. If patients already have a prosthesis, Nelson will ask them to bring it to their appointment and suggests wearing a button-up shirt for the fitting. Nelson typically starts by asking patients a few questions, including what type of bras they currently like to wear, their activity level and if they're going to have radiation, which can cause additional shrinkage of the breast. (Most fitters recommend waiting until after radiation for a fitting.) No matter the type of mastectomy, the size, shape or style, a certified fitter can help women feel sexy, feminine and comfortable in an array of personalized apparel. 
"Fashion is a way for women to reclaim their bodies, no matter their shape or size," Nelson said. "We want our Pink Door Boutique customers to feel good about the way they get dressed during and after cancer treatment."
While initially it may not seem essential to visit a certified mastectomy fitter, it can make all the difference in the world to a woman's comfort and confidence. Whether the surgery was months or years ago, an accredited fitter can help women regain the natural shape of their breasts and ensure they experience as few discomforts in post-surgery recovery as possible. 
"I get to see the moment when the patient who has lost one or both breasts turns toward a mirror and sees herself again," commented Nelson. "I hope what I do plays a small part in helping women not only feel like themselves again but also continue to fight their cancer and move forward in their healing process. Every woman has a unique journey with breast cancer, and no two people's cancer experience is the same. So, Pink Door Boutique treats every patient individually. We are here to help fit a patient with prothesis and are also here to listen and understand what the patient needs, so we can help guide them through the process." 
Pink Door Boutique is a unique store in Joplin, Missouri, meeting the needs of women looking for post-mastectomy/lumpectomy garments and prosthetics. Pink Door Boutique also has wigs, wig accessories, head coverings and skin-care products to help with the side effects of radiation and chemotherapy. 
Pink Door Boutique provides full-service professional fittings and access to the latest state-of-the-art products by maintaining close relationships with mastectomy product manufacturers worldwide, including Amoena™, American Breast Care® and Trulife. The entire business focus of these manufacturers is dedicated to creating products for women after breast surgery. 
Pink Door Boutique takes phone orders and can drop ship certain items to the customer's address. Call Lisa Nelson today at 417.347.7465 for questions, to place an order or make an appointment for a personal consultation or a custom fitting.