Blog Post
New Therapy Alleviates Chronic Back Pain
October 31, 2022
Blog Post
New Therapy Alleviates Chronic Back Pain
October 31, 2022
People who suffer from chronic low back pain now have a new, leading-edge therapy available to help alleviate their pain. 
Freeman Institute for Pain Management is the first and only in the area to offer the ReActiv8™ Neurostimulation System. ReActiv8 is only offered at selected centers of excellence.

The implantable medical device, known as a neurostimulator, is for people who have had back pain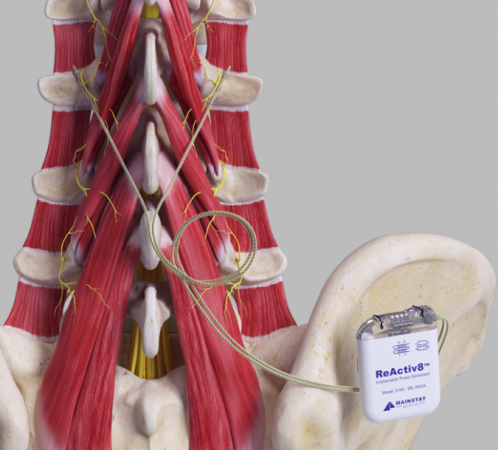 for more than six months and whose pain is impacting their quality of life despite treatments, such
as medication and physical therapy.
ReActiv8 is designed to address the cause of low back pain by activating the muscles that
control stability of the low back. The primary goal is to enable people to get back to physical
activity that has been limited by pain.

So how does it work? The ReActiv8 system is implanted in the low back during a minimally invasive procedure. Small electrodes are placed near the nerves that control the stabilizing muscles of the
low back. In addition to relieving pain, the electrodes activate these critical muscles and cause them
to regenerate and strengthen again on their own over time.

Based on an international multi-center trial, for more than 75% of patients this therapy will break the pain cycle and enable them to return to a normal activity level.

After the device is implanted, patients control the frequency and strength of treatments by using a wireless remote. The implanted device can be removed in the future if desired; however, most people wish to continue the therapy and opt to keep the device long-term.

Click here to learn more about ReActiv8 at Freeman Institute for Pain Management.