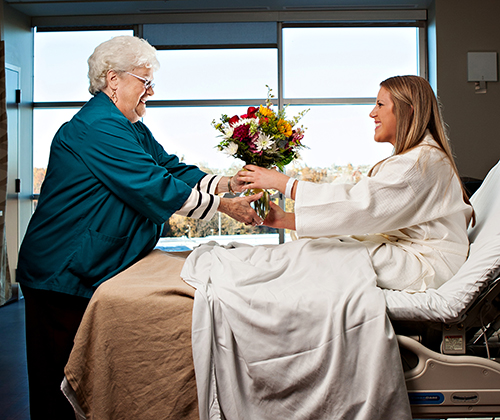 Freeman volunteers make patients and their families more comfortable through personal attention, dedication and a genuine desire to enrich the lives of others. Call today to give the precious gift of your time and make a difference in the lives of others.
Ready to volunteer? Contact the Freeman Volunteer Program Manager at 417.347.4603.
Where do volunteers work?
Freeman West
Freeman Cornell-Beshore Cancer Institute
Freeman Heart & Vascular Institute
Gift Gallery
ICU
Information desk
Floorwalkers and pathfinders
Surgery check-in desk
Postpartum
NICU
Pet therapy
Freeman Sports & Rehabilitation Center
Freeman East
Gift Gallery
Admissions Ambassador
Freeman Neosho
Gift Gallery
Information desk
What do volunteers do?
Provide a valuable service to Freeman and the community
Offer comfort to patients and families
Smile and greet
Answer phones
Deliver flowers, mail and other items
Escort guests through the hospital
Give directions
Perform clerical tasks
Ring up sales
Support staff
Visit patients
Who can join the volunteer team?
Anyone aged 16 to 90+
Male or female
Retired or employed
All work backgrounds
Any educational level
Volunteer benefits
New friends
Free flu shots
Prescription discounts at QuickMeds Pharmacy™
Discounts at Freeman Health Essentials, Freeman Gift Gallery and Freeman Hearing Center
Low-cost health screenings
Meal credit on the days you work 3 or more hours
Health and educational seminars
Annual appreciation dinner
Annual Christmas dinner party
Bi-annual luncheons
Complimentary apparel