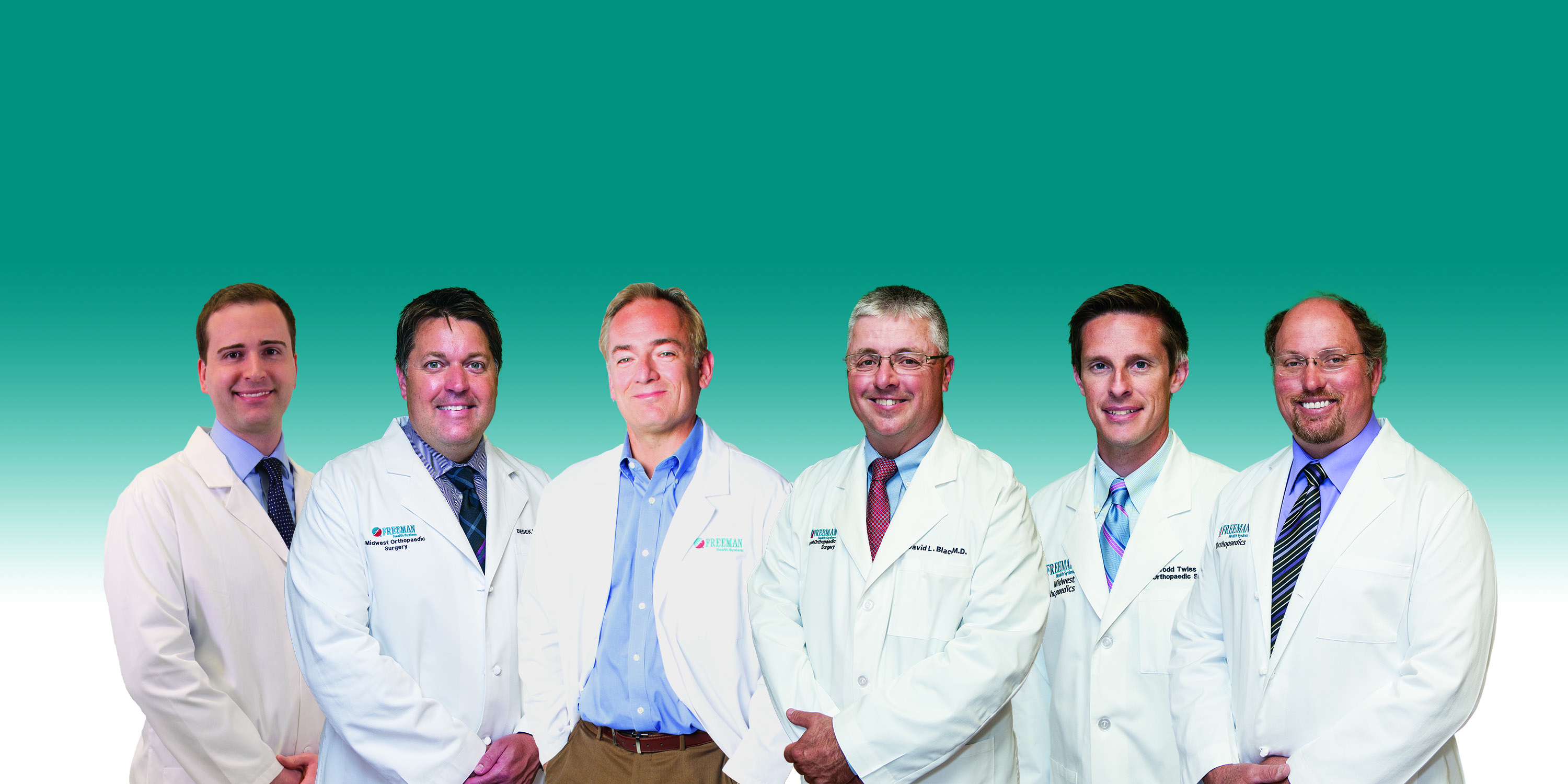 Orthopaedics and Sports Medicine
Your best choice for comprehensive orthopaedic care
Whether you're a college athlete who tears a knee ligament during a game, or the weekend warrior who experiences shoulder pain, Freeman Orthopaedics & Sports Medicine provides high quality, personalized care to help you recover quickly and effectively. Our nationally recognized, board-certified orthopaedic physicians understand your injury and how it relates to your sport. That's why so many area colleges and high school sports teams choose our expert orthopaedic team to treat their aches and injuries. Click here to learn more about orthopaedic services near you.
With their expertise and surgical skills, Freeman orthopaedic physicians are the regions' specialists in hip and knee replacement, as well as corrective surgery on shoulders, elbows, ankles, and feet. Our physicians use the most advanced techniques, including digital diagnostic imaging and minimally invasive surgeries, to provide cutting-edge treatments, procedures and services including:
Fracture treatment
Total joint replacement (knee, hip, shoulder)
Joint revision (knee, hip)
Sports care and injuries
General orthopaedic care (sprains, strains and tears of the muscles and ligaments)
Arthroscopy (hip, knee, shoulder, elbow, ankle, hip resurfacing)
Click here to learn more about Freeman orthopaedics.
Our sports medicine team includes professional physicians, trainers, and therapists who provide athletic injury assessment, treatment and rehabilitation. Our athletic trainers provide game coverage for area schools and perform on-site injury assessment and treatment during athletic events. Click here to learn more about our sports medicine services.
Your individualized treatment plan may include rehabilitation solutions, on an inpatient or outpatient basis, from our dedicated, experienced therapy staff. Therapeutic services with hands-on rehabilitation focused on regaining strength, endurance and skills help you return to enjoying life. Click here to learn more about our rehabilitation services.
No matter what your injury, or where you live, Freeman Orthopaedics & Sports Medicine is ready to meet your needs.
More Freeman Orthopaedics & Sports Medicine Locations
Orthopaedics and Sports Medicine Specialists
related news
Orthopaedics & Sports Medicine